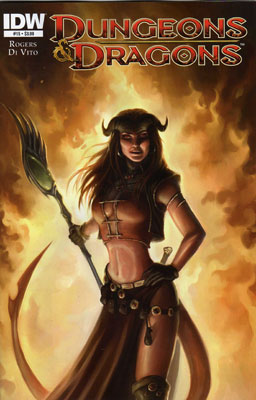 Dungeons & Dragons #15
As seems to be the standard state of affairs, things are not going well for Adric Fell and his band of adventurers. Adric and Bree the halfling rogue are getting chased by a beholder, Tisha the tiefling warlock has fallen down a chasm and found herself surrounded by hordes of monstrous kruthiks, and Khal the dwarven paladin and Varis the elven ranger are fighting off Danni (Khal's girlfriend) and her shapeshifting homunculi. No spoilers for how they get out of these predicaments — but the solutions include teaming up with the kruthiks, kissing a dwarf, and opening a portal to a realm of Elemental Evil. All in a day's work for Fell's Five!
Verdict: Thumbs up. Nothing but awesomeness all the way through. Tons of wonderful moments — Bree offering to stab Adric to help him run faster, Khal and Varis bantering in the midst of battle, the beholder saying "Pardon?" The sole disappointment I have with this issue was realizing that it's one of the few series that IDW doesn't promote. I mean, come on, it's the best fantasy comic on the shelves, and you don't wave signs about it? That's crazy, man.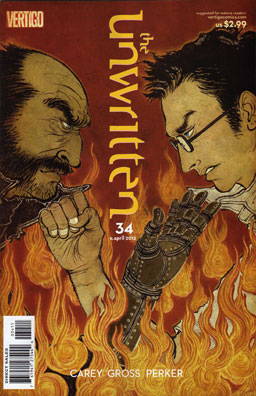 The Unwritten #34
Tom Taylor is done for — the Cabal has captured him and taken away his magic powers by enlisting a roomful of storytellers to read conflicting stories about him. But Lizzie Hexam and Richie Savoy have been listening in, and as soon as they realize he's in trouble, they use the magic doorknob to take them to the storytellers, where they sow a ton of chaos and disrupt their ability to block his powers. With his powers back, Tom takes care of the Cabal's inner circle, then summons the spirit of one of its dead members to interrogate it about what the Cabal is. And he learns the answers to everything can be found in the Cabal's deepest basement by communing with something called the Sibyl. Will he learn the answers he needs?
Verdict: Thumbs up. Good story, great action, good dialogue. This all feels like it's leading up to something big. This series isn't about to end, is it? It feels like it's all working up to a conclusion…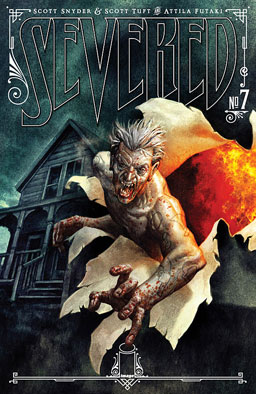 Severed #7
Jack Garron has been captured by the salesman, who has engineered his entire journey to this point. He's killed Jack's best friend, he's hidden him from the world, he's taken one of his arms off, and he plans to eat Jack alive. And then Jack's adoptive mother shows up on the doorstep, and the salesman decides to take care of her, too. With one arm lopped off, strung up in the basement, does Jack have a chance in hell of stopping an immortal cannibal?
Verdict: Thumbs up. Good dialogue, excellent action, some outstanding plot twists. And in the end, perfectly, gloriously bleak horror. If you haven't read any of this yet, I think you'll certainly want to pick up the trade paperback when it's released.
Demon Knights #6
With the army of the Questing Queen and Mordru laying siege to the village of Little Spring, our heroes have their work cut out for them. Exoristos the Amazon takes out some of the enemy's siege-monsters, the Horsewoman mentally communicates with all the wild horses in the countryside, and Al Jabr's crossbow-engines slaughter multitudes. But Exoristos is eventually cut down, the Horsewoman gets gravely injured, and the Horde finally breaks through the village's defenses. Is there any hope to save the village?
Verdict: Thumbs up. Yeah, this story is obviously being stretched out to fill a trade paperback, just like all of DC's other comics, but at least this one feels appropriately epic in scope. Still, they're going to have to make it worth sticking around for the eight issues it's apparently going to take to complete this first storyarc.
Today's Cool Links: