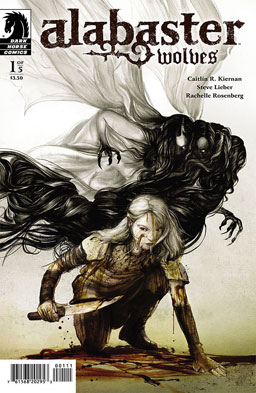 Alabaster: Wolves #1
Caitlin R. Kiernan is the writer of this new Dark Horse series, based on the adventures of a character she's written in several books. Dancy Flammarion is a young Southern girl, an albino, and a monster hunter, watched over by her own multi-headed guardian angel. Dancy is hanging out in a small, dying town in South Carolina waiting for a bus when she meets up with a girl who knows far too much about her — in fact, the girl is a werewolf, and she challenges Dancy to a riddle contest. If Dancy wins, she gets back a cigar box of her old trinkets and possessions; if the werewolf wins, it's suppertime. And then Dancy has to go and screw it all up by making her angel mad.
Verdict: Thumbs up. Didn't plan on picking this up, and didn't know anything about the novels the character comes from, but the previews I saw of this were really great fun. Dancy is a really wonderful character with a great voice and personality. Heck, the werewolf girl is a great character, too. Come to think of it, the bird Dancy talks to is a pretty good character, too. Love Steve Lieber's artwork, too — the atmosphere in the deserted town is pretty much perfect.
Batgirl #8
Barbara has learned that one of Grotesque's minions was one of the Joker's henchmen on the night she was shot. And for some reason, she lets him go free. She finally has the long-overdue talk with her estranged mother and learns that she left the family because she had a breakdown when Barbara's little brother, James Jr., killed a cat and told her he'd kill Babs if she didn't leave the family. Batgirl meets up with Grotesque again, gives him the beatdown he deserves, and gets her unexpected closure from Danny, the henchman who watched her get shot all those years ago. All that plus a nice little cliffhanger on the last page…
Verdict: Thumbs up. I'm not sure I buy Babs letting Danny go the first time, but the rest of the comic is gold. And the cliffhanger really is stellar. Don't wanna say more and spoil it, but it's just wonderful — I was afraid we'd lost that particular character in the DC Reboot.
Lobster Johnson: The Burning Hand #4
The Black Flame, a skull-faced specter able to burn anything with mystical black fire, is running amok as mobster Arnie Wald presses his attack on Lobster Johnson and his crimefighting cohorts. Lobster takes out most of the gangsters, but the Black Flame is a bit more impervious. Can anything stop the undying monster?
Verdict: Thumbs up. Excellent art and writing. Good twists and turns in the story, too.