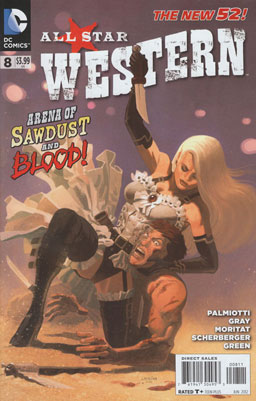 All Star Western #8
While Nighthawk and Cinnamon tear up New Orleans looking for the anti-immigrant terrorist group called the August 7, Jonah Hex goes deep-cover inside a fighting ring where he has to battle the deadly fighter Z.C. Branke. But Z.C. likes a man who can give her a good fight, and they end up spending the night together. And Dr. Amadeus Arkham, meanwhile, spends his evening getting buzzed out of his skull in an opium den and then arrested by the local police. Too bad Arkham decided to blab about Hex's real allegiance to exactly the wrong cop. And in the backup story, we learn about Cinnamon's hard life as an orphan, how she grew to become one of the West's most dangerous bounty hunters, and how she and Nighthawk escaped from a collapsed mine.
Verdict: Thumbs up. Plenty of action, humor, drama, and some nice character moments. I sure hope this'll finally allow us to be rid of Dr. Arkham as a character — there's just no reason at all why Hex would let him keep tagging along.
B.P.R.D.: Hell on Earth – The Pickens County Horror #2
Agent Vaughn is stuck inside a mountain cabin. His host is an eccentric professor researching the local vampires. His partner, Agent Peters, is cooped up in the bedroom recovering from her injuries. And outside is a log of ugly green fog, a lot of messed-up vampires, and a lot of ominous mushrooms. Who will survive, and what will be left of them?
Verdict: Thumbs up. Truly outstanding creepy, claustrophobic horror. Go get the whole thing, it's just two issues.
Today's Cool Links: