Dial H #1
Man, they're shoehorning this comic into the second wave of the DC Reboot, and it doesn't belong there at all. This is a Vertigo Comic, born and bred.
Our main character is Nelson Jent, an overweight, depressed guy who's gunning for an early grave until a bunch of thugs attack his only real friend, Darren. Nelson makes his way into an antique phone booth to call for help — but the help he gets isn't what he expected. Instead he finds himself transformed into a spindly, indestructible, smoke-belching monstrosity that calls itself Boy Chimney. He routs the bad guys and gets Darren to the hospital before he reverts back to tubby Nelson Jent — and when he finds out that Darren works for the bad guys, and that they'll keep coming after him, Nelson returns to the phone booth, trying to figure out what triggered his transformation. When he stumbles on the proper sequence, he ends up turning into a mopey goth called Captain Lachrymose, who can trigger traumatic sorrow in others and then becomes energized by their tears. He goes after the criminals targeting his friend — but he's not the only person in town with weird superpowers…
Verdict: Thumbs up. Fantasy author China Mieville has apparently been wanting to write a comic book for a while, and I don't know why DC put him off for so long. What he churns out here is grim and deeply bizarre pseudo-superheroics — Boy Chimney may be the scariest thing we've seen in any comic in months. And it's got a great level of characterization, too. Nelson is a really interesting character — his desire to help his friend struggling to overcome his depression. And Mateus Santolouco's artwork is a great complement for all of this — his jangly, shadow-drenched illustrations work perfectly for what we've got going on here. Go pick it up, folks.
The Amazing Spider-Man #685
It's still Spider-Man, the Black Widow, and Silver Sable against the Sinister Six — and this time, the rest of the world is on the bad guys' side. After narrowly avoiding getting arrested by S.H.I.E.L.D., the trio contact as many other superheroes as they can (and even a few villains, including the Titanium Man) to help turn the tide against Dr. Octopus. They finally track down Doc Ock's largest satellite-manufacturing factory — just in time for Octavius to launch them all into orbit. But is Dr. Octopus really the villain this time, or is this going to be his biggest trick ever?
Verdict: Thumbs up. A bit slow-moving, but we are at the mid-point in the series. The best point is definitely the cliffhanger at the end — it hits all the drama, suspense, and action points it needs to keep the story running in high gear.
Oh, and hey, Free Comic Book Day was Saturday, and I got some pretty good stuff. Let's check it out real quick.
Atomic Robo: Free Comic Book Day 2012
If there's any serious guarantee on Free Comic Book Day, it's the guarantee that the Atomic Robo comic is going to be one of the best things offered. And it's so again! Atomic Robo and the Fighting Night-Shift Accountants of Tesladyne have learned there's a serious problem with the Large Hadron Collider in Switzerland that could cause devastation across the space-time continuum. And he's brought in a special consultant to help out — Dr. Dinosaur?! But aren't he and Robo terrible enemies? Isn't Dr. Dinosaur a lunatic? Isn't Dr. Dinosaur only kind of a genius and mostly an idiot? Well, yes, but to save the space-time continuum, Robo is willing to work with him.
Except… Ah, curse your sudden but inevitable betrayal! It was all a ruse by Dr. Dinosaur to wreck the Collider using Futuresaurus Rex — an armored T-rex with missile launchers! And guns he carries in his teeny-tiny forelegs! So adorable and badass! But Futuresaurus Rex is just as great a danger to Dr. Dinosaur as he is to everyone else, because Dr. D is an idiot who didn't design a proper remote control for it! Can Robo and Dr. D really work together to save the day?
On top of that, we've got stories from other Red 5 comics like "Neozoic" and "Bonnie Lass." But listen, we all tuned in for Atomic Robo, and everyone knows it…
Verdict: Thumbs up. Huzzah! Dr. Dinosaur! The greatest character in comic book history!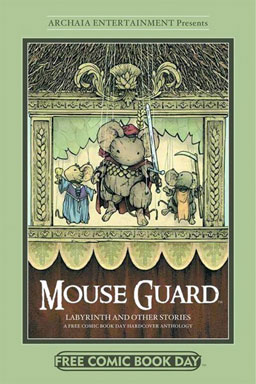 Mouse Guard and Other Stories: A Free Comic Book Day Hardcover Anthology
Okay, I don't mind telling you, there's one thing about this that's gonna blow your mind: it really is a hardcover book. It's not a huge book — it's just 48 pages long, and it's dimensions are a bit smaller than a standard-sized comic book. But it's an actual, fer-realz hardcover, and they gave them out for free. Archaia Entertainment just stepped up their game in a way that no other publisher could match, that alone should be enough to make them this year's Free Comic Book Day champion.
Even better: It's a really good comic book. We get a story of the Mouse Guard as told through a children's puppet show. We get a story about the characters from the movie "Labyrinth." We get a story about the Dapper Men, a hilarious story called "Cursed Pirate Girl: Ramblings from an Old Sea Dog Who Likes to Be Called Alice" which is every bit as mad and surreal as you'd expect, and a story by Nate Cosby and Chris Eliopoulos about the "Cow Boy," a pint-sized bounty hunter who's sworn to capture his own outlaw family members. And they're all great stories. They're all worth reading and enjoying.
Verdict: Thumbs up. Publishing this as a hardcover is a great way to get attention, but ultimately this is a winner because the stories and art are absolutely worth any gimmicks. This was an outstanding comic, possibly the best Free Comic Book Day comic ever.
Today's Cool Links: