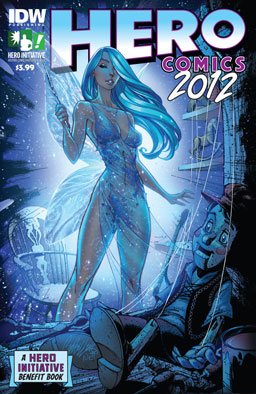 Hero Comics 2012
So it's Memorial Day — a day when we traditionally salute our military heroes. Instead, today let's talk about some other heroes familiar to all of us comics readers. No, not superheroes — the creators of our comics.
I know we've talked several times about the Hero Initiative. They're a not-for-profit charity that focuses on providing assistance to comic creators, artists, and writers who are having serious financial troubles, whether because of age, illness, or simply because of difficulty finding work. They'll help pay medical expenses, rent, even help creators find paying work in the comics industry.
Much of the history of comics has been filled with sad stories about comics creators who didn't get paid very much for the work they did, or who didn't receive pensions or retirement benefits or health insurance because they were freelancers. In fact, that's still a problem today — it's not uncommon for for an active freelancer to have health issues and have serious trouble finding the money to pay for the treatment they or their families need. There are all kinds of things that can leave comics creators unable to work in the industry and facing hard times without a safety net. The Hero Initiative does what they can to make things better. They've taken up the cause of taking care of the heroes who helped create the hobby we all enjoy.
They'll put out a benefit comic about once a year to raise funding and awareness — they tend to focus on a combination of stand-alone feature stories combined with shorter comics in which creators tell about how the Hero Initiative has helped them. So we get an "Elephantmen" story by Dave Sim and Richard Starkings, a story about the Red Star by Christian Gossett and Brennan Wagner, and the piece you'll really want to pick this up for: a new Teenage Mutant Ninja Turtles story by Kevin Eastman himself. Coupled with those are short autobiographical works by Tom Ziuko, Russ Heath, Alan Kupperberg, and Robert Washington — they've all gone through lean times and have been able to rely on assistance from Hero Initiative to get back on their feet.
Verdict: Thumbs up. Eastman's Teenage Mutant Ninja Turtles story is really entirely excellent, but I think the real stars here are the creators who tell their own stories about how Hero helped them keep a roof over their head and food on the table. Their stories do the heavy lifting to demonstrate all the good that the Hero Initiative does for the heroes who created comics for us. They're a great cause — why not help them out by sending them a few bucks?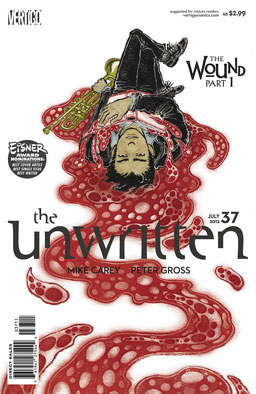 The Unwritten #37
Things have changed for our heroes and for the world — Pullman is dead, Tom Taylor and Richie Savoy are both famous, Lizzie Hexam is dead — and fiction is disappearing from the world. More people look on Tom as a messiah figure as he travels the world talking to fans, and the police are taking an interest. As Tom's tour takes him to Australia, we get acquainted with police detective Sandra Patterson, who's trying to track a string of disappearances linked to a cult of Tom Taylor worshipers. She goes undercover hoping to flush out the truth — but she's quickly discovered, ejected, and beaten — and she misses the chance to witness the cult's magic.
Verdict: Thumbs up. Few appearances of the comic's stars, but the story moves forward fine on its own. It's an intriguing concept, too — what happens to a world that finds itself unable to remember stories anymore? A combination of depression and madness — slow at first, but accelerating as time passes. It'll be interesting to see where this is all going.