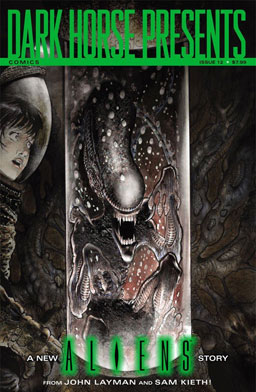 Dark Horse Presents #12
Alright, what do we got in this newest issue of Dark Horse's anthology series? We've got an Aliens story by John Layman and Sam Kieth (with not too many xenomorphs, but we do get a hallucinatory teddy bear). We got "The Creep," a story by John Arcudi and Jonathan Case about a private detective with a case of acromegaly, Carla Speed McNeil's "Finder: Third World," Steve Niles and Christopher Mitten's "Criminal Macabre," Evan Dorkin's "House of Fun" (featuring the Eltingville Club), Dean Motter's "Mister X," Mike Baron and Steve Rude's "Nexus: Bad Moon Rising," Mike Russell's very funny "Sabertooth Vampire," and a bit of fiction by Harlan Ellison, with art by Richard Corben.
Verdict: Thumbs up. Lots of good stuff, nearly all of it running at very high quality. Standouts include Sam Kieth's artwork in the "Aliens" chapter, the Eltingville Club getting humiliated during a zombie walk, the Ellison story, and as always, the newest chapter of "Finder" by Carla Speed McNeil.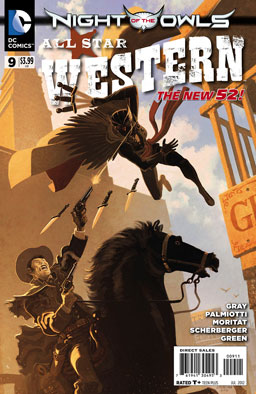 All Star Western #9
Jonah Hex and Amadeus Arkham have been captured by the August 7 terrorist group and are being sent to die on a boatload of innocent immigrants — but wait, it was all a ruse! Arkham let himself by captured by the police on purpose so he could mislead them about Hex's plans. That gives the two of them time to foil the bombing plot while Nighthawk and Cinnamon beat the snot out of the August 7's ringleaders. There's a very brief cameo appearance of one of the Court of Owls' Talon assassins — just so DC can stick a "Night of the Owls" banner on the cover — then we jump back to Gotham City so we can re-introduce one of my favorite characters from Jonah Hex's supporting cast. All that plus the continued adventures of Nighthawk and Cinnamon as they hunt down the bandit who killed Cinnamon's father.
Verdict: Thumbs up. Partly, I'm just amazed that Dr. Arkham managed to be of some use to the plot for once — whether he'll get any more competent or go back to his usual screwup ways, I suppose we'll have to find out. Everything else in this comic works well, with the exception of the from-out-of-nowhere Court of Owls silliness…
Today's Cool Links: