Worlds' Finest #2
Most of this issue is a slugfest — Power Girl and the Huntress vs. a radioactive monster called Hakkou. In fact, Hakkou makes short work of both of the heroines almost every time they meet, and it seems that he has some kind of connection to their old home on Earth-2. Speaking of Earth-2, we also get plenty of flashbacks to Karen and Helena's early days after escaping from that alternate Earth, as they get adjusted to their new home and try to figure out how to get back to where they came from. But do they ever stand a chance of leaving Earth-1 behind, or will Hakkou finish what Darkseid's armies started?
Verdict: Thumbs up. It's not great comics, but it's pretty good comics. The art by both George Perez and Kevin Maguire is lots of fun, the battles are nice and actiony, and the flashbacks are enjoyable. Of course, Power Girl's costume is still just atrociously bad. I feel sorry for whoever designed it. Or whoever eventually gets blamed for it.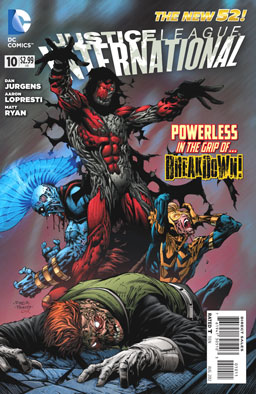 Justice League International #10
What a mishmash. The JLI — down Rocket Red, Ice, Fire, and Vixen, but having recently added Batwing and OMAC — tries to track down the terrorists who've been behind a lot of the hits they've been taking. They knock out some of the bad guys, but they still get stomped after one of the villains manages to take control of Booster Gold's and Guy Gardner's weaponry.
Verdict: Thumbs down. This one is just getting irritating. It was never a really strong comic, but one of the things that I thought made it so interesting was the unusually large number of women who were team members. By now, three of the four of them have been fridged, and they look like they'll stay fridged 'til this comic gets cancelled. But I don't think I'll stick around to see — this title has stopped being even vaguely interesting to me.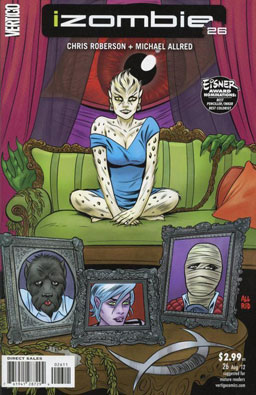 iZombie #26
Gwen has been convinced by Amon that she needs to help kill everyone in Eugene, Oregon in order to save everyone on Earth from the coming of the elder god Xitalu. She's trying to give Ellie and Scott a chance to make their escape, but she can't locate them anywhere. Ellie and Frankenteen get cornered by the vampire paintball girls, the Dead Presidents and the Fossors battle mind-bending horrors together, Scott's grandfather gets unmasked as a chimpanzee, leading Scott to turn into a were-terrier in front of everyone. And just as the end shows up over the horizon, Gwen finally locates her long-lost brother.
Verdict: Thumbs up. Is it okay to call this "soap opera on an apocalyptic scale"? Whatever it is, it works great. Common drama really gets cranked sky-high once the end of the world is coming.
Today's Cool Links: