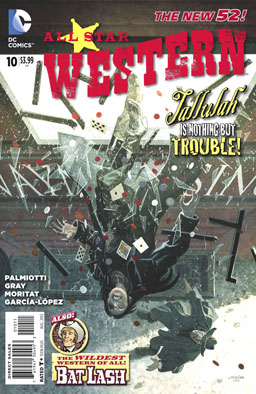 All Star Western #10
Tallulah Black is back in Jonah Hex's life, thanks to getting pitched out of the Wayne Casino by a crook's bodyguard. While she terrorizes Amadeus Arkham, Hex hunts down Alan Wayne to see if he knows anything about the man Tallulah accused of being responsible for her injuries. And the Court of Owls send an assassin after a maniac in Arkham's asylum. All that plus a backup feature starring the Western dandy Bat Lash!
Verdict: Thumbs up. This is one of my favorite issues of this comic, partly because I think Tallulah Black is a wonderful character, and I love the way Gray and Palmiotti handle the way she inspires both desire and revulsion in Arkham. Plus there's the Bat Lash backup — Lash is one of my favorite of DC's old Western heroes, and he's rarely been handled as perfectly as Gray and Palmiotti write him here. And it doesn't hurt that the art chores for the backup are handled by the great José Luis García-López. And let's not forget Moritat's outstanding artwork in this issue, either — he handles Tallulah's scarred beauty perfectly. All in all, just a plain wonderful comic, and I hope Gray, Palmiotti, Moritat and García-López can keep this level of awesomeness going for a while.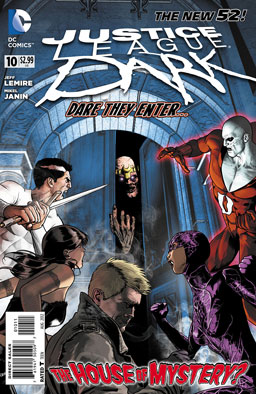 Justice League Dark #10
John Constantine leads Zatanna, Deadman, Doctor Mist, Andrew Bennett, and Black Orchid to the mystical House of Mystery — now that they have a map to the Books of Magic, he wants Constantine wants all of them off the grid while they decide what to do with it. The Books of Magic are terrifically powerful, and he doesn't like the idea of turning them over to the government, or anyone else, really. Unfortunately, Constantine can't resist the temptation to check out the map when no one's watching him, and that unleashes the new rebooted versions of the Demons Three, who manage to steal the map and escape. Meanwhile, Madame Xanadu has a vision of what will happen if Constantine gets his hands on the Books of Magic — and it involves everyone on Earth dying…
Verdict: Thumbs up. Good story, nice art, nothing really earthshattering, but it's a good read.