Wow, what a week. Just nothing but chaos and responsibilities and not anywhere near enough rest or fun. I hope like heck that this weekend is going to help relieve that a little. But we gotta get things rolling, and the best way to start off a new weekend is with… FRIDAY NIGHT FIGHTS!
Tonight's battle comes to us from October 2009's Marvel Adventures: The Avengers #39 by Paul Tobin, Horacio Domingues, and Craig S. Yeung. The Rhino has decided he's tired of having to hang out with crazy psychotic supervillains, but he doesn't want to just turn himself in to the cops — he wants to go out with style — and that means he's gotta get stomped by a superhero. But when Tigra is the hero who shows up, can they team up to make this fight look properly punishing?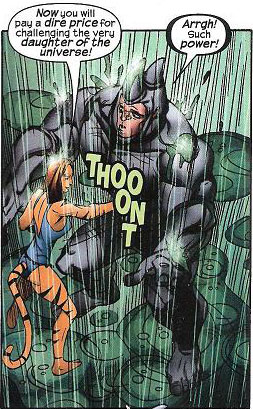 That'll do it for me — see you guys on Monday!