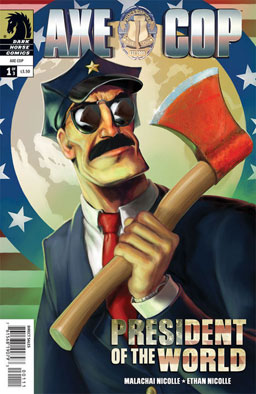 Axe Cop: President of the World #1
Hot dog! I was not expecting a new Axe Cop series! Y'all remember Axe Cop, right? Art by 31-year-old Ethan Nicolle and written by eight-year-old Malachai Nicolle, these brothers turn out some of the craziest, funniest, most awesome comics around at the Axe Cop website. And sometimes, they put out some regular comics, too.
When last we saw Axe Cop, the dedicated crimefighter had wiped out all the bad guys and had been made president of the whole wide world, with a direct prayer line to his personal pal, God. Now he's gotten his new executive mansion, the Gold House, built in Axeville, Washington, and people are asking when or if the bad guys will ever come back. After checking up with God, Axe Cop announces that the bad guys will be gone from Earth for one million years! But that means the bad guys will be back eventually, so Axe Cop sends all the other crimefighters and superheroes in a time machine to one million years in the future.
Meanwhile, Axe Cop adds two new members to his crimefighting team — Goo Cop, a blob of green ooze who is able to control minds with his goo and needs Axe Cop's help to save his family, and Junior Cobbb (yes, with three B's), a talking gorilla who grow to giant size, has robotic gun fists, and can shoot anything he wants out of his tail. He needs Axe Cop's help to save Planet Weird Gorilla (where gorillas stand on their tippy-toes and get dumber and weirder as they grow older) from an invasion of Evil Robotic Penguins.
Can Axe Cop save everyone? Will the heroes be able to stop the bad guys when they return after a million years? And what's going to happen if the bad guys… don't show up?
Verdict: Thumbs up. So much wonderful, mad fun. Beautiful artwork by Ethan, too — a lot of attention always goes to Malachai, 'cause hey, eight-year-old comics writer. But Ethan's artwork is just plain awesome, every single panel. Be sure and pay close attention to all the wonderful details, too — lots of funny bits hidden away in the background…
Superman Family Adventures #3
Aliens are attacking Metropolis! Jimmy Olsen goes to call Superman on his signal watch — but why does he keep getting the Super-Pets instead of the Man of Steel? Fuzzy the Super-Mouse gets some training in his powers from Krypto. And Lois Lane gets a little suspicious about Clark Kent's similarities to Superman, so he has Superboy send a Superman robot to help preserve his secret identity. But when more than one robot shows up, things are going to get a lot more confusing.
Verdict: Thumbs up. Cute, funny stories and artwork. I think it's great that these are basically classic Silver Age stories, just tweaked to make them funnier than they were before.
Today's Cool Links: