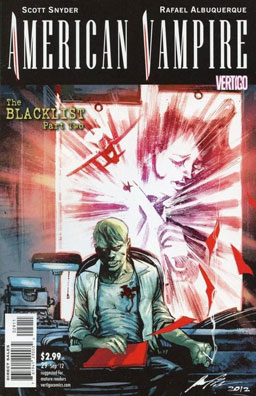 American Vampire #29
Pearl Preston and Skinner Sweet are tracking vampires in '50s Hollywood, hiding out in the mansions of directors and stars. Claiming to be investigators for the House Un-American Activities Committee, they pay a visit to producer Wells White, who shows off his pet lions before Pearl and Skinner catch sight of his vampire guest. While Pearl takes care of the vampire, White turns his lions loose on Skinner — not that a bunch of lions have much of a chance. But who's behind the sniper who kills White? And what kind of hold do the Vassals of the Morning Star have over Skinner Sweet?
Verdict: Thumbs up. Just a good issue. I like the vamps' cover of "Oh, hey, we're with HUAC — you got any shady connections we need to know about?" Makes it a perfect fit for the paranoid '50s.
Justice League Dark #11
Felix Faust is trying to get into the government's vault that contains all of the most powerful magic items in the world, while the JLD struggle to contain him and his pet demons. Meanwhile, Madame Xanadu seeks out Timothy Hunter, a kid in London who may be the only magician in the world powerful enough to safely use the Books of Magic — but he insists there's no way he can help them. Can John Constantine prevent the Books from falling into Felix's hands?
Verdict: Thumbs up. Ehh, it's alright. Mostly a big punch-up. Still not sure I'll ever get used to the idea of John Constantine and Timothy Hunter running around on the superhero side of the DCU.
The Amazing Spider-Man #690
While Spider-Man tries to corral Morbius the Living Vampire, Dr. Curt Connors is back at Horizon Labs trying to turn himself back into the Lizard — and using the rest of Horizon's staff as guinea pigs. Can Spidey capture Morbius and make it back to the lab before all of his coworkers are turned into giant lizards?
Verdict: Thumbs up. Worth it more for Connors' internal monologue than for just about anything else.
Today's Cool Links: