Hellboy in Hell #1
Here's something we don't see often enough anymore — a comic written and drawn by Mike Mignola. Hellboy is dead, and like all good demons, he's ended up in Hell. While one demon tries to beat him to death (again) with a hammer, a warlock tries to defend him, and a puppet show performs Charles Dickens' "A Christmas Carol," Hellboy tries to make some kind of sense of everything going on around him.
Verdict: Thumbs up. It'd be a thumbs-up just for Mignola's wonderful artwork. But the writing and action and humor are all primo, so there's another reason to go get it.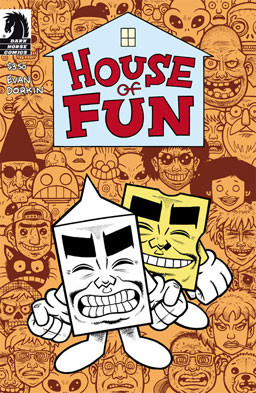 House of Fun
Evan Dorkin throws a whole lot of funny strips in here, including Milk and Cheese, The Murder Family, The Eltingville Club, and a huge number of short newspaper-style strips. No, I'm not telling you more than that — it'd spoil all the fun.
Verdict: Thumbs up. Ye gods, like I should have to tell you Evan Dorkin is funny? Go get it, you mooks.
Colder #2
Well, at least it doesn't have another cover as gross as #1! Okay, that's damning with faint praise, and this is actually a very nice comic. Declan is walking around and talking like a normal person, which freaks out Reece, the nurse who's been his guardian for the past few years. And what really freaks her out is when Declan uses a crazy street person to give her a glimpse into what the world looks like for people who are insane — a mad Jenga game of skyscrapers and monsters — and he gives her a look at what his life used to be like in the asylum. Meanwhile, Nimble Jack drives a fairly normal agoraphobic completely 'round the bend so he can feed on her madness.
Verdict: Thumbs up. Incredibly disturbing horror — the vision Beth, the agoraphobic, has of an audience full of cyclops-monsters is just amazingly freaky, and everything else is just a shade off-kilter, leaving you feeling a bit unbalanced by the time it's all over…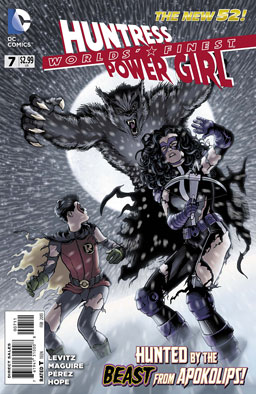 Worlds' Finest #7
While Huntress and Robin fight off deadly wolves from Apokalips, Power Girl has to deal with a bunch of child soldiers armed with Apokalips technology. Not really a lot more than that going on in this one.
Verdict: Thumbs down. The art by Kevin Maguire and George Perez is still gorgeous, but this feels like a series that isn't really going anywhere.
Today's Not-So-Cool Links: