Womanthology: Space #3
This anthology of all-women-created comics about science fiction continues. We get "Centipede" by Robin Furth, Carli Idhe, Ronda Pattison, and Robbie Robbins, about a space smuggler's deadly — and squicky — cargo; "Countdown" by Rachel Edidin and Sophia Foster-Dimino, about some girls making their own pretend rocket and the journeys it takes them on; and "The Vesta" by Jennifer DeGuzman, Leigh Dragoon, and Robbie Robbins, about a crew member on a spaceship and how she tries to escape its overprotective influence. And we also get an essay by Trina Robbins about Lily Renee, a cartoonist who fought the Nazis her own way during World War II.
Verdict: Thumbs up. This is my favorite issue of this series so far — all the stories are great, the art is great, and the whole thing remains a powerful reminder that, no matter how badly DC wishes comics could be their own secret all-boys club, women have their place in the comics biz, too.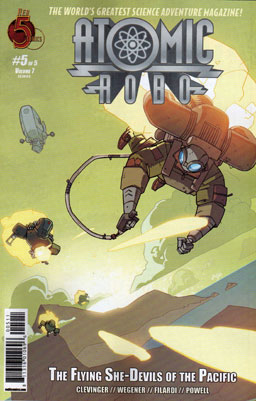 Atomic Robo and the Flying She-Devils of the Pacific #5
With the renegade Japanese soldiers preparing to destroy America by dropping a gigantic earthquake bomb on the country. Luckily, Atomic Robo and the She-Devils of the Pacific are working hard to prevent that. Not that it's particularly easy. It's a furious battle from the first page almost to the end. Of course, they'll succeed… but who will survive?
Verdict: Thumbs up. I love just about everything about Atomic Robo.
The Hypernaturals #6
So there was once this guy named Chernovski, and he was basically omnipotent. He destroyed the universe and immediately regretted it. So he fixed everything back up, then had Clone 21, the last person alive, completely forget him — which caused him to cease existing. But now Clone 21 has remembered Chernovski again, and not only is the most dangerous creature in existence on the loose again, but the remaining members of the Hypernaturals are in dire danger of being killed by alien supervillains. And what is the evil Sublime up to? Is he causing the crisis or trying to end it?
Verdict: Thumbs up. Fun science-fiction superheroics, with great dialogue and art, blistering action, and big, brain-busting ideas.