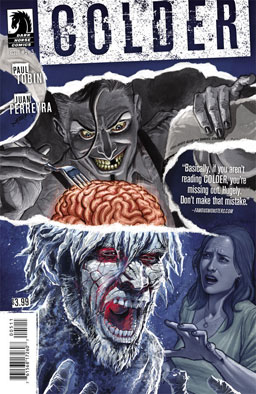 Colder #5
Nimble Jack has Declan trapped and paralyzed, rapidly dropping to his deadly freezing point, while he drags him on a guided tour of his own life before he finally cracks his skull open and feasts on his madness. Does Declan have any chance against Nimble Jack? Or are he and Reece doomed to get eaten alive by the villain?
Verdict: Thumbs up. Oh, man, I want to spoil so very much of this story, 'cause it's so very, very good. You know how a lot of horror series start off really great, then never manage to sell the deal at the end? This is not one of them. This one hits on all cylinders all the way to the end. You get creepiness, you get action, you get buckets of gore — including the scene promised on the gruesome cover of the first issue. You even get good characterization and a few precious nibbles of humor. I'm going to trust that y'all have been reading this entire series — but if you haven't, you'd better keep your eyes peeled for the trade paperback. If there's any justice, Paul Tobin and Juan Ferreyra are gonna win some awards for this one.
Hellboy in Hell #4
Hellboy is rescued from another tight spot by the mysterious figure who has aided him before, and this time, he learns his benefactor's identity: Sir Edward Grey, Witchfinder. Grey reveals how he disappeared from history and how he ended up trapped in Hell — and he offers Hellboy a chance at freedom and a new life. Can Hellboy take the bargain?
Verdict: Thumbs up. It's really great to see Edward Grey again — I really enjoyed his previous series. I don't know if this is the last issue of this series — if it is, it's not a bad place to leave Big Red. If it isn't, I'm looking forward to seeing what happens next.
Today's Cool Links: