I reviewed the latest issue of "Uncanny Avengers" on Friday. And not too long after I posted it, there was this little controversy that hit the 'net: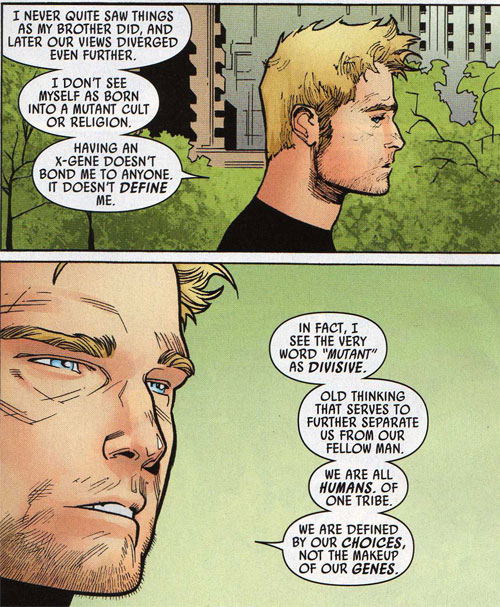 I barely noticed this when I read the issue. I remember at the time thinking, "Hmm, that's kind of a strange attitude for someone in Havok's position to have." But I didn't think of it much beyond that.
If you've read the link above, you'll see some detail on why it's such an odd thing for Havok to say. Alex Summers is a member of a minority group — namely, mutants — which in the Marvel Universe, definitely qualifies as oppressed. The government periodically tries to outlaw and imprison them and people sometimes kill mutants, all on the basis of their genetics. Sure, on the one hand, Alex just wants to be treated like any other human, which is something that every civil rights activist would agree with. But not wanting to be identified in any way as a mutant, and even considering the word "mutant" to be a slur, makes Havok look like a self-loathing mutant.
It's been said that, as far as their political awareness goes, Charles Xavier was the equivalent of Martin Luther King, Jr., working to improve mutant rights through (mostly) peaceful means, while Magneto (and the current version of Alex's brother, Cyclops) would be the equivalent of Malcolm X, working to advance mutantkind "by any means necessary."
With that speech, Alex has been cast as, basically, many of the characters from TVTropes' "Boomerang Bigot" page. If his fellow mutants don't bust his chops over this in future issues, they're not doing their jobs.
It probably doesn't help that "Uncanny Avengers" has previously been criticized for being a team of white characters — and in this issue, they added a Japanese character and two more white ones. And it also doesn't help that writer Rick Remender is reacting to criticism by unleashing his inner douchebag.
For all the complaints, however, it must be said that Marvel could've handled the whole thing much, much worse. DC Comics, for instance, can barely go a month without some horrific controversy where they kill off another non-white character or ladle on the embarrassing sexism when writing about their female characters. Marvel may not be perfect, but they're closer to where they should be.
Anyway, it bugged me that this didn't bug me more when I read the comic, but like straight white male Alex Summers, I've got more than my share of privilege issues that make it easy for me to overlook these things. I try to train myself not to let these things slide by me, but the big problem with privilege is that you often have no clue you've got it until it's pointed out to you after the fact. The best any of us can do is try to be better people…