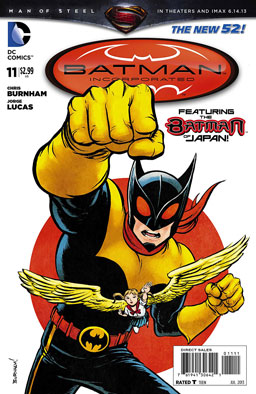 Batman Inc. #11
We take a one-month break from the ongoing Leviathan storyline to check in on what's happening with the Batman Inc. franchise in Japan. Batman Japan and his sidekick Canary are on a date in the virtual reality of Internet 3.0 — since Canary is only six inches tall, they have to date there so they can both be the same size. But they're called out on an urgent mission — five armored motorcyclists are running wild and killing people in Tokyo, but the heroes are unable to stop them from making their escape. Will they be able to defeat the bikers or their terrifying master, Lady Tiger Fist?
Verdict: Thumbs up. A nice break from the tension and high-stakes of the main storyline. It's a fun story, some nice art, and a lot of great attitude.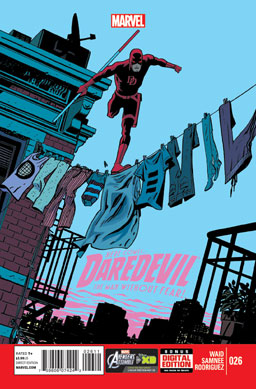 Daredevil #26
Matt Murdock has endured a terrific beating from Ikari, an assassin with all of Daredevil's sensory abilities — plus he's able to see! And Ikari has promised to kill Daredevil — not right away, not with any warning, just to give Matt more time to get more and more paranoid. And Daredevil is indeed jumping at shadows both real and imagined as Ikari and his assistants stalk him. Can Matt keep from cracking up? Can he discover who's behind Ikari and all his recent troubles? Can he keep from being murdered by his stalker?
Verdict: Thumbs up. Great action, great tension, great characterization, great art. The whole thing was a blast to read through, and I can't wait for the next issue.