Empowered: Animal Style
Empowered has taken a part-time job working overnight security for the 20th Annual International/Interchronal Alternate Timeline Superhero Auto Show. And as is typical for her rotten luck, it gets invaded for the first time ever by car thieves. In fact, it's a team of villains wearing animal-themed powered armor who call themselves Animal Style. Emp is entirely outnumbered, so she'll have to use her best superpower — brains. Will that be enough to let her save the day and avoid getting tied up again? Knowing Emp's luck… probably not.
Verdict: Thumbs up. Extremely funny stuff all the way through — I can't get enough of Terrorpin's battle cry, and the glimpses we get of the alternate reality cars are just brilliant, especially Juicetice and Kato's infamous White Superbronco and the Egyptian-styled car designed by Ed "Big Daddy" Thoth. And it's also really cool to see Emp kick so much ass — it's usually pretty rare, even in the full-length collections.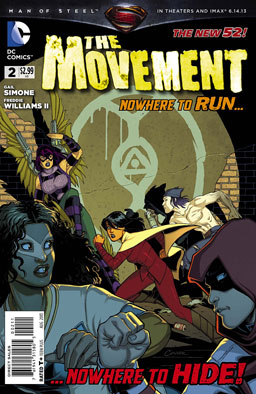 The Movement #2
The members of the Movement have taken some of the more corrupt officers of the Coral City Police Department into custody, which is leading to some concerns that they're treading down the same path as the authoritarian police. And there are plenty of other conflicts tearing at the group. Mouse and Burden are thoroughly insane — Mouse swings from abject sorrow every time one of his rats dies to almost immediately wanting to eat the bodies raw, while Burden keeps flipping from emotionally abused religious fanatic to demonic hellmonster, almost at random. And all Katharsis ever wants to do is fight and kill the group's enemies. So while Katharsis goes off on her own to fight the cops and their wealthy paymaster, the rest of the team sets out on the trail of the so-called Cornea Killer, which sets them up against the ominously-named Weather Witch.
Verdict: Thumbs up. Much better than the first issue, as we're finally getting some clue about the Movement's personalities. The action is quite good, too, and the interpersonal conflicts are excellently drawn. Having said that, I am a little curious how it's going to work with two team members so thoroughly broken mentally. And I'm afraid I did let out an exasperated groan when we learned the true identity of the Weather Witch…