Batman '66 #2
The Penguin is back in Gotham City, and he's parked a gigantic iceberg in the middle of Gotham Harbor to block shipping traffic. And he's somehow managed to get his iceberg declared a separate nation, meaning the police are helpless to run him off. And just to make things worse, his accomplice in this caper is the dastardly Mr. Freeze! Can Robin save the day when Batman is captured by the cold-hearted criminals? And in the backup story, Bruce Wayne takes Kathy Kane on a date to see a performance by reformed piano-playing crook Chandell. But his co-performer is Lorelei Circe, the Siren, and she uses her hypnotic voice to make all the men in the audience her slaves. Batman, luckily, has made himself immune to her spell, but she uses a mysterious vocal treatment to make the Caped Crusader hallucinate. Can anyone save Batman from the Siren's song?
Verdict: Thumbs up. The thing I'm really enjoying about this series is it lets us get an idea of what the producers of the campy '60s show could've done with a big budget. Giant icebergs and submarines? Sure. Lengthy hallucinatory episodes? Why not! It's great fun, and I'm looking forward to more.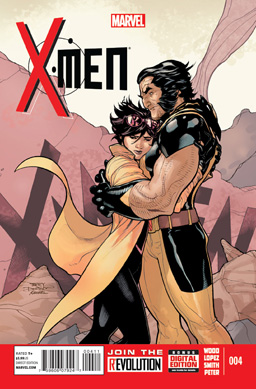 X-Men #4
While most of the new X-team is trying to rescue a crashing jetliner (and while Storm and Rachel Grey argue with each other about whether Storm is fit for leadership), Jubilee takes Wolverine and her adopted baby Shogo on a tour around Santa Monica, California, where she grew up.
Verdict: Thumbs up. I know, I didn't spend a long time describing the plot, 'cause it really didn't need a whole lot of space. They're both absolutely outstanding stories — the plane rescue is tense and exciting, and the argument between Storm and Rachel is quite well done — their disagreement makes perfect sense, and their views are honestly presented, with neither one assumed to be correct. But I thought the high point was Jubes and Logan hanging out and chatting in California. They're great characters, and they play off each other really well. I think I'd be A-OK with Marvel making a "Wolverine and Jubilee Hang Out and Chat" comic book.
Today's Cool Links: