CBLDF Liberty Annual 2013
I always look forward to the annual benefit comic for the Comic Book Legal Defense Fund, partly because it's an easy way to support a wonderful organization, partly because it's always a pretty high-quality anthology comic. This year, we have creators including Fabio Moon, Richard Corben, Josh Williamson, Paul Tobin, Tim Seeley, Andy Kuhn, and many others. And among our stories are a prosecuting attorney willing to commit murder to censor comics; agents of Thomas Edison determined to stamp out all non-Edison movie cameras; a horror host forced to go corporate; Captain Midnight trying to figure out blogging, newspaper commenters, and untrustworthy journalists; the tale of German comedian Paul Morgan's persecution by the Nazis; a short history of Pussy Riot; a Hack/Slash story about a supernatural censor who kills people looking at forbidden things; and a story examining the question of "What if Wertham was Right?"
Verdict: Thumbs up. Excellent stories — no stinkers at all, this time, and only a couple that were just so-so. Good stories, good art, and all for an excellent cause.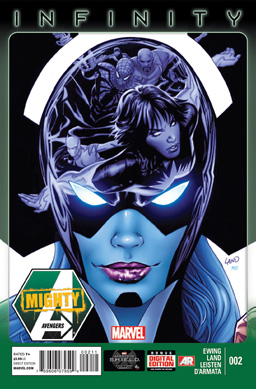 Mighty Avengers #2
Well, we start out somewhere deep under the ocean, where the Blue Marvel has his sanctum sanctorum, monitoring the Earth for crisis situations. Meanwhile, in New York, Luke Cage, Spectrum, the Superior Spider-Man, and um, the Amazing Spider-Hero are fighting off a bunch of Thanos' forces, led by Proxima Midnight. She manages to take out both Spectrum and Cage, but the citizens of New York lead a chant that gets Cage back on his feet. Thanos ends up calling Proxima off, but Monica is dying and something even worse than Thanos is rising up from beneath the city.
Verdict: Thumbs up on the story. It's quite nice, with lots of action, characterization, and humor. Artwise, it's a lot more of a thumbs-down situation, because they're still letting that hack Greg Land work on this book, and there's just no good reason to let this schmuck trace that many photos of Halle Berry.
Today's Cool Links: