Like a Virus
Here's an interesting little supernatural-themed comic that heads a few places you might not expect. It got a lot of publicity as a Kickstarter project of Ken Lowery, Robert Wilson IV, Jordan Boyd, and Thomas Mauer. The story focuses on Felicity, a young woman who has the rare ability to sense spirits and ghosts. She's staking out an apartment in New Empire City because of a rumor of a suicidal ghost. Once a week, Felicity hears a body strike the sidewalk, but no one else hears a thing. She finally makes it into the apartment, where she meets Marie, an older woman who's relived her suicide every single week since her death decades ago. Why did Marie kill herself? And can Felicity bring any comfort or release for the spirit?
I don't actually know if this has hit the stores yet. I've had it for a few weeks, but I got it in the mail for backing the Kickstarter. I haven't seen it in my local comic shop, but that don't mean it ain't out there. I'm gonna assume it's hit the stores, though, and be done with it.
Verdict: Thumbs up. There's a lot to love here. It's not really a scary comic — Marie isn't portrayed as a supernatural threat, just as a lonely and deeply sad woman who happens to be a ghost. It does have a lot of eerie glory, though, especially early on when Felicity is investigating the haunting. But what really drives the comic forward is a meditation on suicide, what brings it about, and how the idea of it seems to worm its way into your life. As Lowery's postscript states, it's a very personal work. And despite the heavy subject matter, it was still a lot of fun to read. I hope you'll pick it up when you see it in the stores.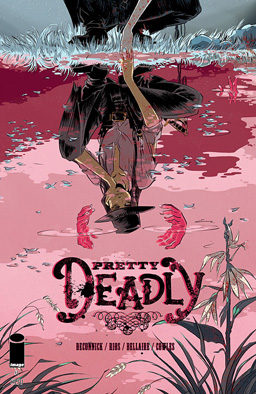 Pretty Deadly #1
A new first issue — a bit of a horror western, or maybe a western with a few horror elements worked in. Much of the tale is told through a song by some strange traveling performers, about Death falling in love with a woman who tries to kill herself, and leaves him with a baby. And once the performance is over, one of them steals some sort of parchment off an outlaw, who's soon pursued by a woman in black named Big Alice. And once she learns the parchment is gone, the performers find themselves pursued, too.
Verdict: Thumbs up. An interesting first issue by Kelly Sue DeConnick and Emma Rios. As always, the first issue is all about setting our stage, meeting the characters, and getting the first hint about what's up. I hope future issues will be as interesting.
Velvet #1
And another first issue — this time, a spy drama by Ed Brubaker and Steve Epting. Our setting is 1973, and most of our characters are James Bond-style superspies, working black ops on a black budget with more flair and finesse than anyone else could reasonably manage. And ARC-7's top operative has just been ambushed and murdered by someone wielding a common shotgun. Such things are just not done, and there's plenty of suspicion that there's a mole in the organization. In the middle of all of this is Velvet, a woman who is supposedly the organization's secretary, the secret lover of almost all the operatives, and an even more secret operative herself. When a retired operative is eventually identified as the murderer, Velvet has her doubts and starts her own investigation — and soon finds herself set up and framed by whoever is killing ARC-7 operatives…
Verdict: Thumbs up. Action, intrigue, fantastic dialogue and characterization. And holy wow, is Epting's art absolutely fantastic here. Just gorgeous, gorgeous work. Classic '70s espionage thriller in comic book form — might wanna add this to your pull-list, folks.