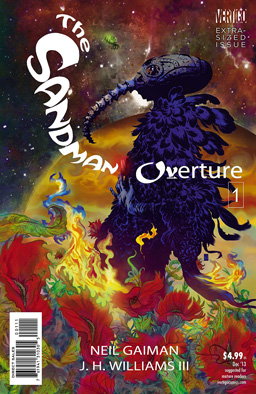 The Sandman: Overture #1
Neil Gaiman writing Sandman again? With J.H. Williams III on art? Is it any wonder this was something many comics readers were very interested in?
Basically, this is a Sandman prequel — the adventure that Dream was engaged in immediately before the first issue of Sandman in 1989. We get reacquainted with a few of the Sandman supporting cast as they would've appeared around 1913 — the Corinthian is looking for victims, Destiny and Death perceive dire omens for Morpheus' future, Merv Pumpkinhead has had a fateful encounter with Sigmund Freud, and something strange is happening to Dream — something so strange it surprises even him.
Verdict: Thumbs up. Yes, I'm keeping the description deliberately vague. Half the fun of this is enjoying the surprises. But the story catches your interest from the beginning — a dreaming flower? Yes, please, more. — and the characters are true to how we remember them. Even the briefly-met new characters are cool in all the ways that Sandman characters should be.
Williams' art is, as always, stunningly gorgeous, and his layouts are just so much fun. Quorian's tale is told through branches, the Corinthian's through teeth, Destiny's through pages of his book, George Portcullis' through a portcullis. And the stunning beauty of the gatefold plot twist — man, it's something else. If you love the Sandman — and if you love comics, you really are required to love the Sandman — you definitely need to go read this book.
The Raven and the Red Death
Very simply, retellings of Edgar Allan Poe's "The Raven" and "The Masque of the Red Death," through Richard Corben's unique and beautiful visual and storytelling style.
Verdict: Thumbs up. I got excited about this as soon as I heard it was coming out, and I was not disappointed. I love Corben's work, and it's fantastic that we're still able to see comics from him on a fairly regular basis.
Itty Bitty Hellboy #3
The gang makes banana walnut pamcakes and then annoys Baba Yaga (who lives in a bucket). They want her to use her magic powers to make everything big. Banana walnut pamcakes, cupcakes, potato chips, shoes, lobsters, you name it. Baba gets sick of it all and sends them all… TO HELL. Everyone really seems to enjoy it, and all the demons are convinced that Hellboy is going to use his big stone hand to destroy the world. Can banana walnut pamcakes save the world from fiery destruction? Meanwhile, Baba and Hecate both fall in love with Roger, so Baba clones him, so both of the girls can get some sweet, sweet homunculus lovin'.
Verdict: Thumbs up. Seriously, I think by now y'all should know how much I love this stuff, right? Baba and her bucket are hilarious, as are Liz and her love of hellfire, the giant pancakes, and the never-unfunny running gag about Roger's underwear.