Manifest Destiny #1
What we've got here is a revision of the story of Meriwether Lewis and William Clark, the explorers who explored the Western United States for President Jefferson. While the real-life Lewis and Clark mapped the Louisiana Purchase, laid claim to new territories, and traveled all the way to the Pacific Ocean, this version of Lewis and Clark have a secret agenda. Their expedition consists of Army volunteers and pardoned convicts, none of them aware that Jefferson has asked their leaders to look for monsters to kill. Monsters? Is President Jefferson crazy? There's no such thing as monsters, right? Well, it wouldn't be much of a story if there weren't any, would it?
Verdict: Thumbs up. I had no real plans to pick this one up, but the preview dragged me in with just this one image: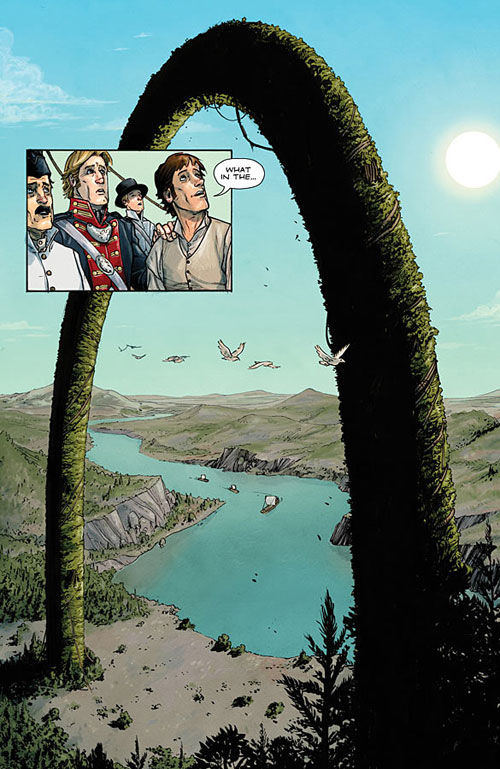 Yeah, it's the Gateway Arch, over 150 years early and made out of plants. Kinda had to see what the big deal was after that.
Characterization is very nice — Lewis is the artistic intellectual, Clark the officious military man, and Jensen, one of the convicts, is devious and much smarter than he lets on. The action, when it finally makes it into the comic, is outstanding, and the mystery is wonderfully intriguing. Hopefully, future issues will deliver on what this one promises.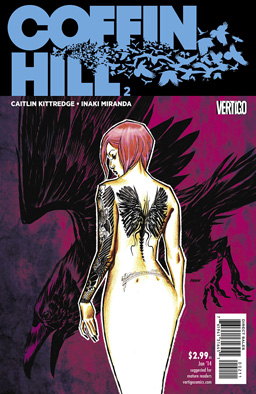 Coffin Hill #2
Eve Coffin, disgraced witch and disgraced cop, has returned to her family's mansion, hoping to atone for her too-casual use of black magic when she was a girl. Back then, her magic caused one friend to go mad and another to vanish mysteriously — and her kinda-sorta boyfriend, who skipped out on the fateful ritual, has now become a police officer, too. Eve wants to help find some kids who've gone missing in the woods, using her police instincts and her knowledge of black magic. Can Eve track down the clues she needs? Or is the malign force hiding in the forest going to claim her, too?
Verdict: Thumbs up. A lot of great mood going on in this one. And I really like the one-black-eye look that Eve is rocking.
Watson and Holmes #5
Holmes and Watson are investigating a rash of cases where abandoned babies have been found in dumpsters. Most have survived — there's been only one death. Soon, they manage to track down the mother of the dead baby, and she tells them that her doctor had taken the kid for adoption, but soon suspected her of being dishonest. The police arrest the doctor — only to learn that it's the wrong doctor! Who's been masquerading as a doctor and stealing babies? And why does the press want to protect the baby thief?
Verdict: Thumbs up. It's a great, self-contained mystery with another batch of excellent characters. Not a lot of action in this one — but listen, if you need action in all your mysteries, you're doin' mysteries wrong. Mysteries are cerebral, man.
Today's Cool Links: