Rocket Girl #2
DaYoung Johansson, teenaged supercop from the future, is stuck in 1986 trying to prevent Quintum Mechanics from using the invention of time travel — which she just provided them with — to commit crimes in the future. Needless to say, this is going to be a tall order. She's being watched over by a couple of friendly Quintum employees who nevertheless don't want her roaming around New York City stirring up trouble. But, well, DaYoung is an extremely dedicated police officer, no matter what jurisdiction she's in, even if it's going to get her in trouble with the local cops…
Verdict: Thumbs up. Beautiful art by Amy Reeder and a dementedly convoluted plot by Brandon Montclare. This is simultaneously thrilling and hilarious.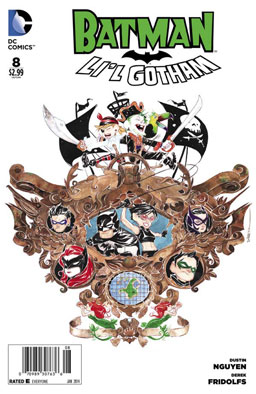 Batman: Li'l Gotham #8
Bruce Wayne is under strict orders to take a vacation, so he and Selina Kyle set sail on a relaxing tropical yacht trip — only to run into the Joker and Harley Quinn — and a Pirate Joker and Pirate Harley, too! Meanwhile, in Gotham City, the rest of the Bat-Family and their allies are working overtime to keep Gotham City safe from the criminal element.
Verdict: Thumbs up. Excellent storytelling, a wonderful sense of humor, grand adventuring, and awesome art by Dustin Nguyen. It's great all-ages reading, so go enjoy it.
Today's Cool Links: