Young Avengers #13
It's the final battle between the Young Avengers and the monstrous shapeshifting mind-controlling Mother! And while Wiccan tries to become the Demiurge, and the teen heroes on Earth fight off the alternate-universe monster versions of the Young Avengers, the rest of the team is fighting Leah and her allies — who are all, somehow, different facets of Loki's personality. No, I don't understand how it works either, but once Teen Loki confesses, Leah and the rest of her stooges vanish, except for the zombie Patriot. But it may do no good, because Mother is about to eat Wiccan and take control of the universe. Can Hulkling manage to give his lover the pep talk he needs, or is this the end of everything?
Verdict: Thumbs up. No, I didn't really understand all of it, but it was stylish and beautifully illustrated and fun, and it's everything that great superhero comics should be — and we gotta enjoy the heck out of this series while it still lasts. So it's worth getting, either now or whenever it gets released in trade paperback.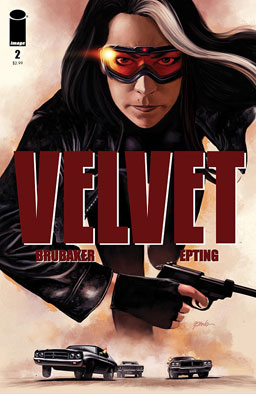 Velvet #2
Velvet has been framed for the death of several agents, and she's on the run, trying to avoid getting apprehended or killed. Is there anyone she can trust, or is she completely on the outside now?
Verdict: Thumbs up. Yes, it's a very short plot description because nearly the entire story is devoted to epic chase scenes and fistfights. The action is absolutely fantastic, and you should be reading this one for that alone.
Hellboy in Hell #5
Hey, I thought this one ended months ago. Hellboy is still in Hell, and he meets up with some old gentleman who sold his soul to the Devil years ago. He and his friends agreed to the bargain on the condition that if they could answer the demon's questions on the day he harvested them, they could go free. Can Hellboy figure out a way to get the old man's soul free?
Verdict: Thumbs up. It's a nice story, and it's got real live Mike Mignola artwork. Yeah, this really better be on your list, kid.
The Fox #2
So the Fox finds himself running around some bizarre crystalline world being menaced by a giant monster — until suddenly his wife Mae appears, wearing a costume similar to his and calling herself the She-Fox. And she pretty much kicks his ass all over the city. But wait a minute — wasn't Paul in some crystal world just a minute ago? Who's trying to gaslight him and how can he escape? Plus we get a short backup story about the Shield and how he spent part of World War II.
Verdict: Thumbs up. The story's fine and the art's nice. The story and characters are growing on me, though I still wish this were a bit more epic and out of the usual Marvel/DC formula.