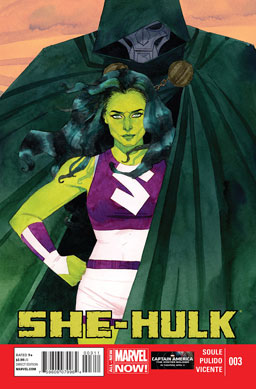 She-Hulk #3
Jennifer Walters has her first client — Kristoff Vernard, the son of Victor von Doom. And he wants to defect to the United States. The problem is that he doesn't want to be Doom's puppet, either now or someday when he inherits his father's throne, and he'd rather be his own person in America. And the problem for She-Hulk is that he's been in the U.S. exactly a year — and that's the cut-off point for filing a legal claim for asylum. And the other problem is that there are a heck of a lot of Doombots between them and the courthouse. And even if they can get hold of a judge, there's one more problem — where Kristoff goes, Dr. Doom is probably close behind.
Verdict: Thumbs up. Grand art, fun storytelling and dialogue, and wonderful action, both on the physical and legal levels. It's a fantastically fun comic, and one more example of how Marvel is doing almost everything right. I mean, can you imagine DC making a comic like this?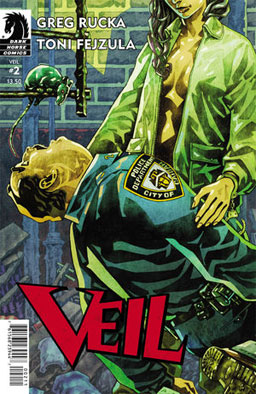 Veil #2
Veil somehow made a bunch of thugs kill themselves — but she did it at Dante's apartment, so they're both on the run from the cops. But the problem with running from the cops is that they catch up with you eventually. Meanwhile, there's something unpleasantly supernatural going on — a ritual spellcaster called Cormac performing sacrifices on behalf of a crooked politician. He has some sort of connection to Veil, but what is it? And what is Veil anyway?
Verdict: Thumbs up. It's not as good as the first issue, to be honest — Veil suddenly stops talking in her weird sing-song rhyme and starts speaking perfectly normally, which takes half the fun out of the whole thing. But it's still a good story, with cool, stylized art and lots and lots of mystery. I ain't giving up on it yet.
Today's Cool Links: