Well, I feel like complete garbage, especially considering that I get to spend a holiday sick instead of, you know, being well. So I'm going to finish these as quickly as I can so I can go away and feel like garbage somewhere else.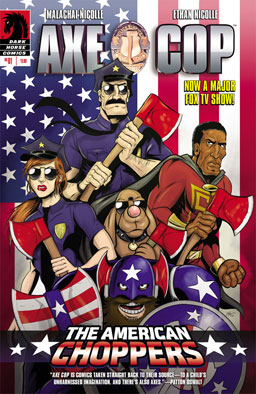 Axe Cop: The American Choppers #1
Axe Cop gives up being President of the World so he can go back to fighting bad guys. He teams up with Super Axe and Captain Axe to defeat the Food Force Three and a bunch of alien monsters, then sing a song and eat some ham. They team up with Axe Girl, her mother, Axe Woman, Ralph Wrinkles, and a goat with axe horns to become… the American Choppers! But can they stop a bunch of evil axes controlled by demon lumberjacks?
Verdict: Thumbs up. So fantastically weird and funny.
Daredevil #3
Daredevil easily whups the Shroud's ass, then learns that it was all a scheme to get the Shroud an audience with the Owl so he could kill him. But Matt has a different plan, involving Matt just walking right into the Owl's mansion with a subpoena. But things never work out like they plan. Meanwhile, we learn a little more about the mystery of Foggy Nelson's "death."
Verdict: Thumbs up. Beautiful art and a delightfully convoluted story — and Foggy Nelson! I was getting worried about Foggy…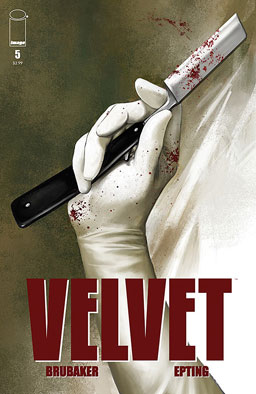 Velvet #5
Most of this issue is a flashback to Velvet's ex-husband, a fellow super-spy like Velvet, and how she maybe killed him or maybe didn't because he was maybe a double-agent.
Verdict: Thumbs up. It doesn't get the overarching mystery cleared up, but it's a well-told and beautifully illustrated story, soaking in action and espionage coolness.
A Voice in the Dark #7
Zoey finally breaks down and murders again — and she pulls off a couple perfect crimes — except for one little serial killer eyewitness…
Verdict: Thumbs up. As always, amazing artwork. Fantastic focus on the tension and intricacy Zoey's planning and execution of her murders.
The Witcher #3
Geralt the Witcher encounters bunches of monsters, doesn't trust Vara the succubus, and is strangely trusting of Jakob the hunter.
Verdict: Ehh, don't know. It's wonderfully moody, but it just didn't entertain me much. It felt oddly predictable.