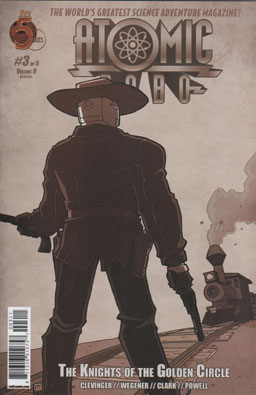 Atomic Robo and the Knights of the Golden Circle #3
Robo is stuck in the Wild West, his atomic batteries burning out, traveling with U.S. Marshal Bass Reeves and outlaw dentist Doc Holliday. They're tracking a bunch of bandits who've been kidnapping townspeople across the West for nefarious purposes — and after a wild shootout aboard a train, Robo learns that the Big Bad is none other than Helsingard, the villain who's plagued Robo throughout his history, from an elderly Nazi to an undead cyborg floating-floating Nazi. What are Helsingard's plans — and can Robo stop him before he dies?
Verdict: Thumbs up. Absolutely outstanding action — that running battle on board the train is a good dozen pages of the best swashbuckling Western you always wanted to see. Plus there's a bit of humor, a bit of drama, and a little ominous foreshadowing for what the next two issues may hold for us.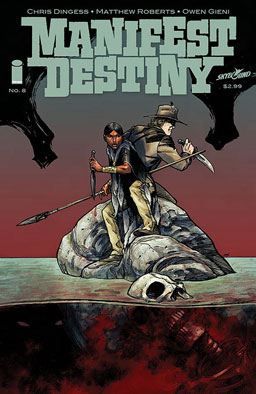 Manifest Destiny #8
Half the crew is stuck on a boat in the middle of a river, held fast by a gigantic tentacled toad-monster that'd like to eat as many people as it can. The other half is stuck on land, trying to find a safe place to camp, trying to figure out a way to rescue their stranded crewmen, and most likely, getting ready to get slaughtered by the monstrous wildlife of the American frontier…
Verdict: Thumbs up. Claustrophobic mood and rising tensions among the crew members. Plus we get one monster being carefully hidden from view, just to make us wonder what's under the water — and another monster depicted in full technicolor gory, just for those of us who like to see some great monsters.
The Witcher #5
Geralt the Witcher finally meets up with Marta and learns that she's not a monstrous bruxa, but just a cursed woman, trapped between life and death after her husband, Jakob the hunter, killed her in a fit of jealous rage. Marta begs Geralt to kill Jakob, but he refuses — Witchers kill supernatural monsters, not human ones. But the question may be forced after all — Jakob is entirely mad and willing to kill anyone he thinks might come between him and his dead wife.
Verdict: Thumbs up. A nice end for the series, with most of the truly frightening bits reserved for the human villain rather than for the supernatural horrors — many of the monsters are themselves victims of a curse.
Today's Cool Links: