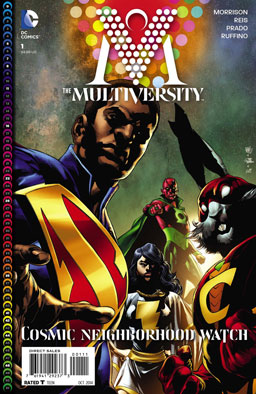 Multiversity #1
Nix Uotan is the last Monitor, operating as a multiversal superhero called Superjudge. While answering a distress call from Earth-7 with his sidekick, Mr. Stubbs the Pirate Monkey, he finds a world ruined, with only one superhero left, the Thunderer, an Aboriginal Australian and thunder god laboring under intense psychic attack by transdimensional monsters called the Gentry. Uotan sends the Thunderer to a place called the House of Heroes while he prepares to battle the Gentry.
Far away, on Earth-23, Superman (also known as the President of the United States, which has got to be the world's worst secret identity) gets teleported to the House of Heroes, where he meets up with Captain Carrot, the Thunderer, Dino-Cop, Aqua-Woman, Red Racer, and heroes from across the Multiverse. They travel to Earth-8, home of Lord Havok and the Extremists, as well as a bunch of superheroes from Marvel — excuse me, from Major Comics. Lord Havok is about to hatch something terrible from the Genesis Egg — but what horror is going to emerge?
Verdict: Thumbs up. It's Grant Morrison writing a cosmic story about weird alternate-universe superheroes, with only a slight connection to the New 52, so he's going to be playing with a bunch of wild characters and concepts. Superman may be our lead hero, but Captain Carrot is where all the fun is. As I've said plenty of times before, I'd love to see a revival — a non-dark-and-gritty revival — of Captain Carrot and the Zoo Crew.
Sensation Comics #1
Much like "Legends of the Dark Knight" and the more recent "Adventures of Superman," this is an anthology series of not-necessarily-in-continuity tales, this time entirely focusing on Wonder Woman.
Our first tale, written by Gail Simone and illustrated mostly by Ethan van Sciver, is set gloriously in the pre-Reboot DC Universe. It has Gotham City's villains teaming up to (temporarily) take down Batman. Looking for a hero to help get Gotham back under control, Oracle (Yes! Oracle!) gets on the phone and calls in Wonder Woman, who comes in throwing actual Wonderangs. But the villains in Gotham are a lot more uncontrolled than most bad guys, and they don't generally consider anyone less terrifying than Batman to be a real threat. Can Diana put the scare in Gotham's villains? Or will she find a third way forward?
The second story is, unfortunately, a much more pedestrian battle against Circe.
Verdict: Thumbs up. That first Gail Simone story is really pretty awesome. And not just because it doesn't have a single whiff of the New 52 about it. Every bit of it is gloriously put together, and it's really fun to see Diana out of her element and getting challenged by Batman's mostly-unpowered rogues gallery. If more of the stories in this series are like Gail's and less like the predictable and dull Circe slugfest, this is going to really be a great series.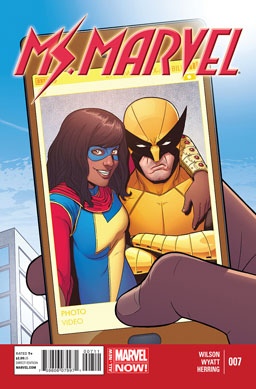 Ms. Marvel #7
Kamala and Wolverine narrowly survive an attack by the Inventor's gigantic sewer alligator and then start making their way out of the sewer. But it turns out the mad genius wasn't done with them yet and was just luring them into another trap. Can they escape? Can they free the Inventor's other victims? And what's gonna happen after Wolverine deduces her true origin?
Verdict: Thumbs up. Some good action, but most of this issue is pleasantly talky, with Wolverine coaxing more of Kamala's background out of her. The art is a bit odd in places — a little like the Teen Titans cartoon — but in others, it's really fun to watch how the dialogue will go crawling up a page as the two heroes climb out of the sewer.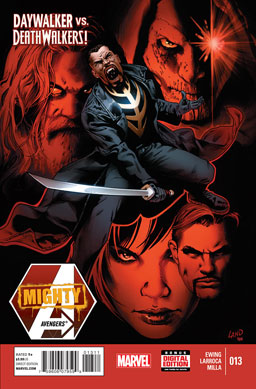 Mighty Avengers #13
The immortal wizard-gods called the Deathwalkers are back, and they have a plan to destroy the world using Blade's blood. Can Blade break free from confinement? Can Power Man track down where he's being held? Can the combined forces of the Mighty Avengers of the 1970s and the Mighty Avengers of 2014 defeat the boundless evil of the Deathwalkers and their minions? Or is it already too late for the human race?
Verdict: Thumbs up. For starters, no Greg Land on the art! We've got Salvador Larroca, who's way, way better. The rest of the story is fine, but probably not blow-up-the-house awesome.
Today's Cool Links: