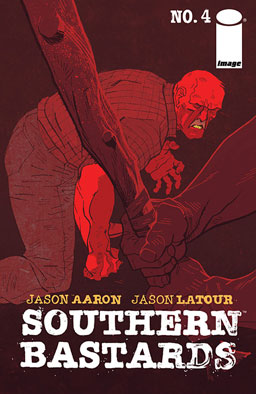 Southern Bastards #4
Earl Tubb has returned to Craw County, Alabama only to see one of his few allies, a little kid who was really more interested in watching Earl's TV, brutally beaten and maimed by the thuggish minions of Coach Boss. He heads out for a final confrontation with the stooges, expecting most of the law-abiding citizens of Craw County to be on his side — but he quickly learns it just ain't so. And things get a great deal worse for Earl when he finally meets up with Coach Boss.
Verdict: Thumbs up. It's still a fantastic Southern noir — sweltering in summer heat that never seems to cool down and basted in grime and sweat and barbecue sauce — but it's also something a great deal older. This is a Southern tragedy, and Earl Tubb's fatal flaw, from the beginning, has been his stubbornness. Earl doesn't get a happy ending, but he gets the right ending, the only one this story could really offer. The series is going to continue — perhaps the new protagonist will fare better.
Clive Barker's Nightbreed #4
We follow Chocolat, demonic in appearance, though far more maternal in nature, as she is forced to leave her children behind centuries ago in Europe. In time, she comes to America, always hiding, always on the run from humans who hate her because of her monstrous looks, until she finally finds a place to belong. We also follow Rev. Ashberry, dedicated to eradicating sin, preferably by blade and garrotte. We get to follow him all the way up to where he makes his first appearance in the classic 1990 horror fantasy film. All that, plus we get an appearance by Vasty Moses!
Verdict: Thumbs up. I was actually kinda expecting that my enjoyment of this series was about to start dying down, but the good news is that the stories here are still appealing, still resonant, still fun to read. I'm hopeful it'll stay that way for a while.
Today's Cool Links: