Alright, kids, it's the weekend! Whatcha gonna do to start things off? Darn your socks? NO! Mop the garage? NO! Go on Twitter and send threats to people because their race, gender, or sexual orientation differs from your own? NO! Hug adorable fluffy animals? Well, actually, that sounds like a great thing to do. But what we definitely will do to start the weekend is indulge in pointless comic-book violence! That means it's time for… FRIDAY NIGHT FIGHTS!
Tonight's battle comes to us from October 1971's The Incredible Hulk #144 by Gary Friedrich, Roy Thomas, Dick Ayers, and John Powers Severin, as the Hulk meets up with the colossal villainy of Dr. Doom! Turns out Hulk likes to give hugs, too!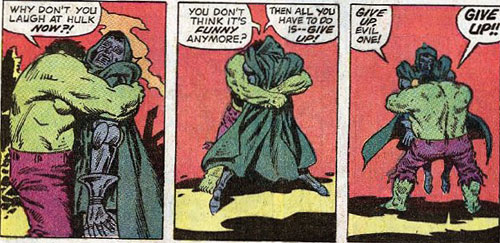 I have nothing more to say. I'm off to hug some adorable fluffy animals.