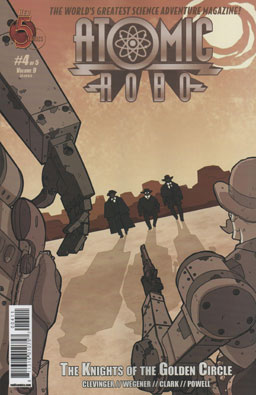 Atomic Robo and the Knights of the Golden Circle #4
Robo is stuck in the Old West, and his batteries are slowly dying on him. He's traveling with U.S. Marshal Bass Reeves and outlaw dentist Doc Holliday as they try to track down Baron Heinrich von Helsingard — who definitely shouldn't be in the Old West either, much less building killer robots out of outlaws and gunslingers in a mad plot to take over the United States. Once they get inside his hideout at Crestone Peak, it's a running battle against the robots through the mountain and then on top of a gigantic dirigible. Can our heroes escape the robot army? And does Robo have a chance to survive before his batteries give out?
Verdict: Thumbs up. Lots of action, lots of great art and characterization and the kind desperate humor you get when funny comic book characters are running for their lives. The next issue is probably gonna be a big one, so y'all hold on.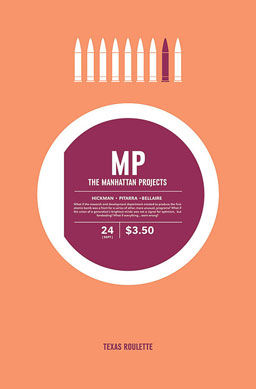 The Manhattan Projects #24
While the alien-co-opted Soviets continue their plans for conquest through cybernetics and brain transplants, LBJ comes to an agreement with General Groves and General Westmoreland — he'll let them keep their power and positions in the Manhattan Projects, as long as they eliminate his boss. So how did all the conspiracy theories get started?
Verdict: Thumbs up. Pitch-black humor in the sunlit '60s. This one has characters from history, alien monsters, mind control, eyeball trauma, magic bullets, and splattered brains. Enjoy the show!
Today's Cool Links: