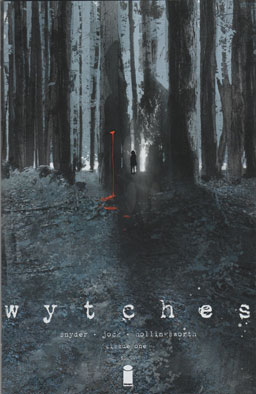 Wytches #1
Scott Snyder is the best horror writer working in comics right now, and Jock is one of the best at non-traditional, moody, gorgeous artwork. Putting them together on a new horror title this close to Halloween is something I would never have been able to resist.
Meet the Rooks family, new to town after moving when their daughter Sailor was involved in a mysterious disappearance. Dad is a cartoonist, Mom is in a wheelchair, Sailor is a misfit, even without the questions about why a psychotic bully "vanished" right in front of her. And weird things are going on around the family — a deer gets into the house and then dies bloodily in front of them. Something calls to Sailor from the treetops. And there's a history of horrifying deaths in the area, spanning decades. Something awful is coming for the Rooks…
Verdict: It's a gloriously creepy first issue, especially with that near-perfect cover. It promises scares bloody, jagged, and over-the-top, as well as quiet, shadowed, and subtle. I'll be honest — I'd love for this one to go weekly 'til Halloween. It looks like it's going to give me exactly the kind of horror I enjoy the most.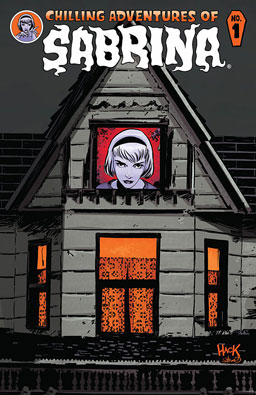 Chilling Adventures of Sabrina #1
Archie Comics is really embracing their new horror comics more enthusiastically than I would've ever expected. Their new title focuses on the origin of Sabrina Spellman, the Teenage Witch, born the daughter of a warlock and a mortal woman and now living with her witch aunts Hilda and Zelda, along with her talking cat Salem. In the old Archie comics, this was all an occasion for fun, comedy, and romance. It ain't like that in the new one.
In this issue, mostly set in the late 1950s and 1960s, the Witches Council lobotomizes Sabrina's mother when she tries to escape with her infant daughter and later turns her father into a tree. Sabrina is placed with her almost entirely evil aunts, and when Sabrina's classmates express prejudice against half-breed witches, they move to a little town called Greendale. She meets her cousin Ambrose, a spell-casting bad boy with a couple cobras as familiars, and he helps her land a boyfriend, handsome Harvey Kinkle. But there's trouble outside of town — a pair of foolish witches from Riverdale have called up something they can't put down again…
Verdict: Thumbs up. It's a spooky and funny debut, with all the familiar beats of the old Sabrina comics twisted into black comedy and/or straight horror. The scariest moments come at the very beginning, with Sabrina's mother and her desperate and doomed flight through the forest, while the funniest comes toward the end, with Betty and Veronica trying to summon a succubus to help them decide who gets Archie…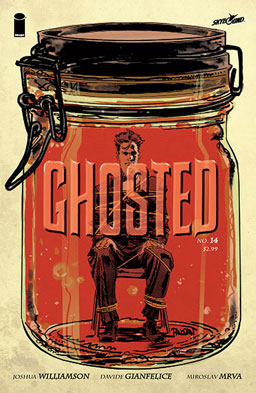 Ghosted #14
An occult motorcycle gang is gunning for Danny Trick because he's been using their sacred virgin-blood candles for purposes they don't approve of. Anderson's ghost is tearing the bikers apart and freaking out Oliver King. Jackson Winters and Nina Bloodcrow are keeping their wits about them, and it's not long before the bikers have all been wiped out. Danny takes them to his hideout — and almost immediately betrays them. He's a secret black magician, and he wants to figure out what Jackson's connection is to the spirit world. Too bad Jackson has to die to reveal that…
Verdict: Thumbs up. Plenty of action, plenty of style, a juicy betrayal — the series is still running the supernatural heist game hard and very well.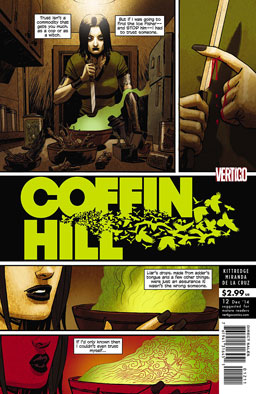 Coffin Hill #12
Another one of Vertigo's comics where they start the story on the cover. Seems like a decent gimmick, but this one isn't nearly as eye-catching as the "Astro City" cover was.
Eve Coffin suspects one of her fellow police officers of being the Ice Fisher serial killer, so she prepares a potion called Liar's Drops, designed to reveal untruths. The two detectives leading the investigation both pass the test — unless one of them is a warlock and able to suppress his reaction to the potion. Meanwhile, in the present, Eve's boyfriend and his rotten brother are trying to break her out of jail while magical monsters try to kill her.
Verdict: Ehhh. I must say, the identity of the Ice Fisher was the most badly telegraphed reveal I've seen in ages. The killer has been all but wearing a sign that reads "I'm the Ice Fisher!" for the last several issues.