Daredevil #9
The Purple Man's empowered children have gotten together and are using their mind-control powers to wreak havoc in San Francisco. Meanwhile, Matt Murdock is excitedly planning on writing his autobiography and looking forward to his $8 million advance. Kirsten and Foggy aren't sure it'd ever work — Matt doesn't have the patience to write a whole book, and his life has been, up to the last few years, spectacularly depressing, with most of his girlfriends dying, struggles with poverty, and repeated personal, emotional, and superheroic setbacks. Matt is assuring them he can handle it when he learns about the Purple Kids' rampage through the city. Their combined emotion control powers, however, are a lot more than he can handle.
Verdict: Thumbs up. Good story and fantastic art. The Purple Kids have a great combination of menace and pathos, and the idea of Matt revisiting the old rotten and depressing days is something that's perversely appealing — he's had it pretty good for quite a while, so it'll be interesting to see how Mark Waid writes him over the next issue or two.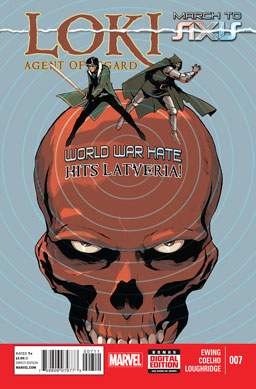 Loki: Agent of Asgard #7
Dr. Doom has captured Loki in a field of null-time, trapping him between seconds so he's unable to come up with any spells or tricks to escape. Verity Willis, a human who can see through any lie, traveled to Latveria with Loki, but she managed to turn invisible with Loki's amulet of invisibility, but Valeria Richards easily detects that she's there — but she decides not to reveal her to Doom, who has his own troubles when he finds Latverians fighting amongst themselves — something which Doom has decreed must never happen. But the people refuse to listen to him, and Doom deduces that the Red Skull, now possessing Charles Xavier's telepathic powers, is causing a worldwide outbreak of hatred and strife. Is there any way to stop the Skull's hate plague before Latveria destroys itself?
Verdict: Thumbs up. Not as much stuff about Loki this time, but a really excellent focus on Verity, Valeria, and Doom himself. It makes for a really entertaining story.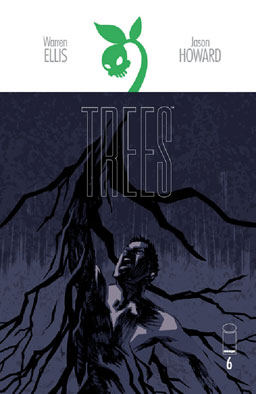 Trees #6
In the Chinese city of Shu, naive young artist Chenglei is questioning his sexuality and identity after a wild party when he realizes he's falling in love with Zhen, a trans woman — all of this while the Chinese authorities are taking a new, ominous interest in the city. In Sicily, secret moves are underfoot against the local fascist gangs. And in the Arctic, the Tree-created flowers are a lot more difficult to eradicate than was expected.
Verdict: Thumbs up. The storyline in Shu is just plain outstanding. The scenes between Chenglei and Uncle and especially between Chenglei and Zhen are fantastic, poetic, absolutely beautiful. This is definitely turning out to be another great year for Warren Ellis comics.
Today's Cool Links:Â 
Here's a very nice one-minute-long horror movie for you.
You scared of Ebola? You scared of ISIS? You watch too much TV. Here are the things worth being afraid of.
And Texans, don't forget, early voting begins today. Get out there and vote. Don't you vote for that hyper-corrupt hypocritical weasel Greg Abbott. Dude's so crooked he could hide behind a corkscrew.