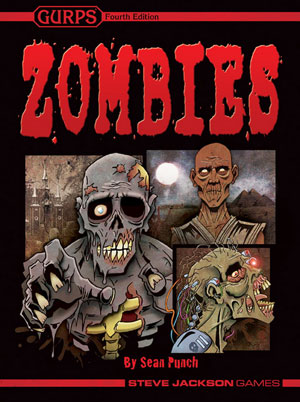 So a few months back, the folks at Steve Jackson Games started posting a few short essays from their creators and designers celebrating the tenth anniversary of the Fourth Edition of GURPS, their long-running RPG rules designed to be used with virtually any genre of roleplaying. They had essays from folks like Sean Punch, Phil Masters, Kenneth Hite, Bill Stoddard, Steven Marsh, and more. I won't link all of them, but you can find a listing of all ten of them right over here.
I thought the whole thing was just a little depressing, partly because there were so dang few contributors to the series — they couldn't even get Steve Jackson, the designer of GURPS and founder of the company, to write up an essay — and partly because the glory days of GURPS are so far in the past.
I didn't really discover GURPS until after I got out of college and learned they'd put out a sourcebook for George R.R. Martin's shared-world Wild Cards series, which was, at the time, my favorite book series. As it turned out, the local B. Dalton store didn't have GURPS Wild Cards, but they did have GURPS Horror, so I picked that up and soon started buying as many of their sourcebooks as I could. In my first post-college job, I'd get home in the evenings, bored out of my skull, and create new GURPS characters — filled up multiple legal pads, just because I loved the detail of their character-design system. I never got to play it — I've never lived anywhere where anyone else was interested in the game — but holy zamboni, did I love making new GURPS characters and reading GURPS books.
Around 2004, they announced they were creating the Fourth Edition of the game, I picked up the Basic Set eagerly — and found that I really didn't enjoy it. I felt like the new version was a lot more complicated — the 3rd-edition GURPS Vehicles supplement had allowed for insane levels of micro-detail, giving RPG gearheads tons of numbers they could crunch all day. And the Fourth Edition rules moved some of that number-crunching detail into character generation, where I'd always enjoyed the more plug-and-play aspects of the 3rd-edition rules. In addition, most of the new rulebooks were hardcovers and a lot more expensive, and I got more and more indifferent to the game as time went by.
But more depressing than one guy losing interest in a roleplaying game has been the decline in GURPS' status as one of the powerhouse RPG systems and the steep drop in the number of GURPS books published. I'd expected the Fourth Edition books to start out with the core sourcebooks — the Basic Set, Fantasy, Magic, Space — and ramp up to include more far-ranging and esoteric titles. But the Fourth Edition books never got much beyond the core books. A few more unusual sourcebooks were produced, but most of those were only available as digital PDFs. Still, there were a lot of 3rd-edition sourcebooks that I thought were surely going to be republished in Fourth Edition — Cyberpunk, Illuminati, Steampunk, Warehouse 23 — that remain orphaned in 3rd. Sure, you could use the info in the old sourcebooks to play in Fourth Edition, but it still felt like GURPS's legendary genre diversity had fallen by the wayside.
There were a couple different reasons for the reduction in GURPS titles — first, traditional RPGs had crashed and crashed hard. Magic: The Gathering had more gamers focusing on collectible card games, D&D's Open Gaming License had tons of companies building new games that operated under D&D's rules, and computer games, including MMORPGs like World of Warcraft, were a massive and growing entertainment industry that traditional pen-and-paper roleplaying games just couldn't compete against.
And within Steve Jackson Games, Munchkin happened. Munchkin was and remains massively popular. And SJG isn't a gigantic company — it's a moderately popular and successful publisher, and as long as Munchkin was making money hand over fist, it just made good sense to put more of the company's resources into publicizing Munchkin and creating new Munchkin sets. That meant that attention and support for GURPS and most other games had to drop.
The company is still publishing GURPS books digitally, but last year, they released only one GURPS book in hardcover — GURPS Zombies. As far as I can tell, they haven't released any books in print in 2014. I'm sure they can keep releasing mini-rulebooks on PDF from now 'til doomsday, but no print products at all in over a year? That's not a sign of a healthy system. That's a sign of a dead RPG.
It's not just a problem for Steve Jackson Games. I think it's a symptom of a weak market for nearly all pen-and-paper RPGs. I know, we (and I'm including myself in this) talk a lot about the resurgence of interest in roleplaying games. They get talked about a lot in the mass media — it's not at all uncommon to read an article in a major newspaper or magazine that focuses on people playing RPGs. But what worries me is that most of those articles focus on Dungeons & Dragons, maybe Pathfinder — and that most of them focus on RPG fans returning to games after years away from the hobby. The other games we hear folks talk about are things like Paranoia or Chill or another game that's getting a Kickstarter designed to appeal to fans of the old game. In other words, the gaming resurgence we keep talking about is more about nostalgia, and I worry that people will end up abandoning the hobby again once they hit on something else to feel nostalgic about.
Still, I do wish that SJG had chosen to commemorate the 10th year anniversary by announcing some neat new print products. As it was, it seemed less like a celebration and more like a eulogy.