Wytches #2
Sailor Rooks has apparently been attacked in the night by… something. She thinks it was Annie, the bully who vanished while tormenting Sailor, and the bite mark she sustained has now turned into some sort of lump that's keeping the doctors mystified. The lump leads to a weird emotional trauma during a swim test, and Sailor bugs out of school. She's seen and followed by her uncle, who's concerned about her — but there are things in the woods waiting for both of them. Meanwhile, Sailor's father is attacked by a man in their home, and Sailor's mother remembers just what caused the car accident that paralyzed her.
Verdict: Thumbs up. Most of the issue is mundane, maybe a little bit creepy. But ye gods, the last five or six pages are one hammer blow of horror after another, most of it rendered mostly obscured so you can't be entirely sure if what you're seeing is real or just in the characters' imaginations. And we're just into the second issue!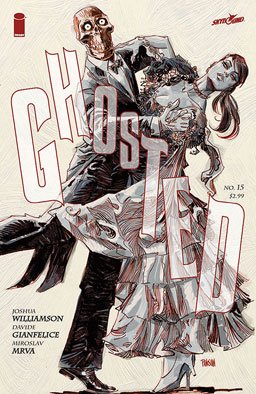 Ghosted #15
Danny Trick, the son of one of Jackson Winters' oldest friends, is a disturbed necromancer, using his magical ghost candles to control the spirits of the undead. If Jackson won't agree to commit suicide so Danny can get control of his ghost, he's going to let his spectral goon squad tear Jackson and Nina apart — unless Jackson's own spectral guardian, Anderson, can manage to hold them all off. Luckily, Nina has a few hidden talents to help them out — but even if they survive, many of Jackson's old enemies are uniting to take him on together.
Verdict: Thumbs up. It's a good story with a nice denoument and a decent cliffhanger. Danny was a pretty good villain, and I'm sorry to see him go — but the way this series goes, death isn't a guarantee he won't make a return.
Coffin Hill #13
Doyle, the cop heading up the task force looking for the Ice Fisher serial killer, is himself the Ice Fisher, and he's captured Eve Coffin, with the intent of either killing her or convincing her to join the serial killer business with him. Can Eve stop him? Can he ever be revealed as the murderer?
Verdict: Thumbs down. This one has just gotten too convoluted, especially with the current storyarc's flips from the past to the present. I've had trouble keeping all the characters defined for the past several issues — and the character who shows up at the cliffhanger is even someone I can't remember ever being discussed before. So I think I'll be bidding this series farewell, even though I'm already missing Eve's creepy-awesome scarred-black eye…
Today's Cool Links: