The Wicked + the Divine #6
A few months have passed since Lucifer died, and Laura's life is settling into post-celebrity teen angst. She's never managed to recreate Luci's powers and is having trouble reconnecting with her parents — but she's just gotten a phone call from another member of the pantheon, and he wants to meet her. Inanna is a Sumerian love goddess born into the body of a male teenager, and his clothing is so purple, you'll need to dig out all your old Prince CDs while you're reading this. (That's not a bad idea anyway.) And it turns out Inanna is actually a Laura fanboy — he met her briefly before his ascension to godhood.
Verdict: Thumbs up. As always, fantastic art and storytelling. Love the infographic on Laura's room, as well as her unspoken speech to her mom, which both do a great job of getting us deeper into our protagonist's head. Other things worth loving are Laura's smackdown of the middle-aged pantheon fanboy at the convention who doesn't think the current generation is worthy, mostly because they're not his generation — pretty much every over-the-hill rock critic who idolizes the music he grew up with. And the awesome Princeness of Inanna's outfits are really just glorious.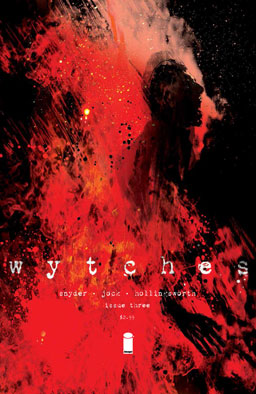 Wytches #3
Sailor Rooks has gone missing after stealing a school bus after a rough day at school. And no one knows it yet, but her uncle is missing, too. Her parents are upset, and the local police are trying to calm them down enough to get them to aid them in the search. Charlie is also upset because of the mysterious woman who attacked him earlier in the day — no one is quite sure she was real, and even Charlie has some doubts. But someone is trying to send the Rooks family a message — in the strangest way possible…
Verdict: Thumbs up. It's a wonderfully creepy story – and I gotta say, one of my favorite bits is actually after the story is over, when colorist Matt Hollingsworth shows us how he adds the colors, as well as the incredibly cool paint spatter, that gives the comic such a unique look.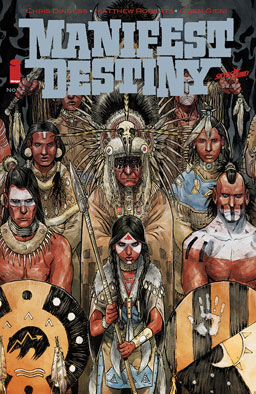 Manifest Destiny #12
The expedition continues west, encountering a few monsters — and some Indians. Sacagawea is able to talk to them a bit, even though they're from different tribes, and while they consult, we learn how Lewis and Clark came to lead the expedition — Lewis was a walking scandal until President Jefferson revealed that there were monsters in the Louisiana Purchase and strongarmed him into taking the journey, while Clark was retired, drunk, upset, and bored — he joined just to have some discipline back in his life. Meanwhile, does Sacagawea have more secrets she's keeping from the crew? Oh, that seems quite likely.
Verdict: Thumbs up. A nice breather story, with lots of interesting info about how the expedition came about.
Today's Cool Links: