We're getting mighty close to Christmas, but there's still time for some more gift recommendations for the comic book lover in your life.
Today, we're going to talk about three different comics that I've already reviewed multiple times (click on the links at the bottom of this post if you want to see my more in-depth reviews of each issue) — but they're now out in trade paperbacks, there's a decent chance they'll still be available in your local comics shop for you last-minute shoppers, and they'll make great gifts for any comics fan who hasn't yet gotten to enjoy the series.
First, there's Moon Knight: From the Dead, by Warren Ellis and Declan Shalvey.
Ellis and Shalvey's much-too-short run on the series produced one of the best superhero comics of the past year, as Marc Spector takes on military cyborgs, snipers, killer psychotrobic mushrooms, punk rock ghosts, and more, all wearing amazing all-white costumes — standard superhero costumes, suits and ties, magical bone armor.
The art and storytelling here are simply amazing. You get six done-in-one stories, beautifully illustrated, gloriously colored, fantastically action-packed. Almost every issue Ellis and Shalvey produced could be nominated for awards — and should be — and if you know a comics fan who loves innovative storytelling and spectacular art, you can get this at your local shop for about $18.
Next, we get Southern Bastards: Here Was a Man, by Jason Aaron and Jason Latour.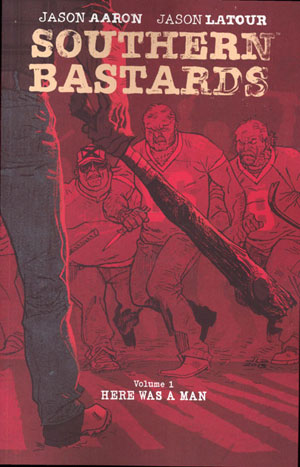 This is a grimy, deep-fried Southern noir starring an old man named Ernest Tubb who's returned to Craw County, Alabama for the first time in decades. He gets pulled into the dirty political machinations of the town, thanks to a bunch of redneck thugs picking on innocent people, and because of Coach Boss, the coach of the local football team, owner of the best barbecue joint in town, and the local crime boss.
Aaron and Latour are both from the South, and they end up bringing a lot of both the good and the way-too-frequent bad of the Deep South. The noir is pitch-black — more a tragedy than a traditional Southern gothic — the characterization and dialogue are grand, and there's even a recipe included for Aaron's mom's fried apple pies. And it's just $10, which is a great way to introduce this series to the crime fiction fan on your shopping list.
And finally, here's The Wicked + the Divine: The Faust Act, by Kieron Gillen, Jamie McKelvie, and Matthew Wilson.
This one has a really great hook — every 90 years, a dozen young people become the avatars of actual gods. They are worshiped and revered, despised and denounced. They perform miracles, and they perform concerts. And within two years, all of them die. It's time for a new celestial cycle, and we follow two main characters — Laura, a divine fangirl and wannabe, and Luci, which is short for Lucifer. She's the Devil.
The art is crisp and glorious, the story is inspired and mind-blowing, and the characters are people you want to learn more and more and more about. The "gods as supernatural pop stars" is a fantastic set-up, and the mystery at the heart of the story is fascinating and terrifying. You've got someone on your holiday list who would absolutely love this one, and you can get it for 'em for just ten bucks.