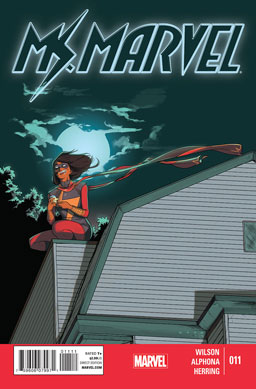 Ms. Marvel #11
It's the final showdown between Ms. Marvel and the Inventor. The cloned Edison-brained super-genius in the body of an oversized parakeet has, well, genius and robots on his side — Ms. Marvel has a few normal allies, Lockjaw, and her own shapeshifting powers on her side. And it still may not be enough…
Verdict: Thumbs up. It's a punch-up, with a few interesting twists in it, including a bendy girl wedged inside a robot, a teleporting dog, and a bunch of normal hero-worshiping kids underfoot. It's a fun story with great art and a nice focus on Kamala's growing reputation as a hero.
Sensation Comics #6
Our first story follows Diana's attempt to obtain a phoenix egg as a birthday gift for Queen Hippolyta — with a devastating ambush by the Cheetah to complicate things. Our second story gives Wonder Woman and Big Barda a chance to beat up a bunch of robots — and to tangle with the Brain and Monsieur Mallah. Can Diana find a peaceful way through the crisis?
Verdict: Thumbs up. Really nice art on both stories. The first one reads like a full-length storyarc in less than a full issue, and it's pretty great. The second one is shorter, but maybe more fun — it's wonderful to see these classic characters, all in a story that makes sense.