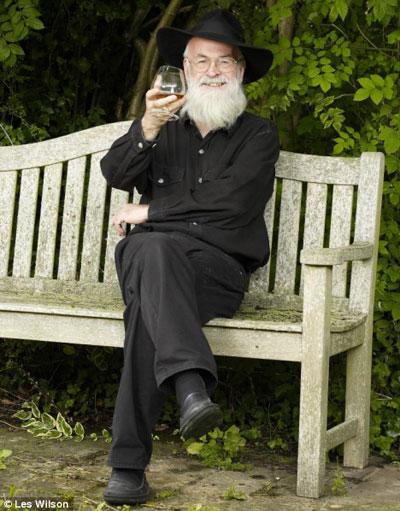 Yesterday was tough, wasn't it? If you're anything like me and several million other fans of fun, geeky, glorious literature, you found out around mid-morning that Terry Pratchett, author best known for the Discworld series of novels, had died. And after that, you spent the rest of the day in a severe funk, if not going to hide somewhere so you could safely cry at work.
I don't think I can reach any unusual heights of eloquence here. I can't tell you any stories about him you haven't heard. There are people who've actually met him and worked with him who can do that, and you should seek them out and read them, because they're remarkably good and moving. I can't tell you about how reading Pratchett's novels changed my life, because I was already a sci-fi and fantasy-loving geek when I read my first Discworld novel — but there are a lot of people who had their lives transformed by his books, and you should seek them out, too, because they're also good and even more moving.
I can tell you that I haven't read all of Sir Terry's books, but I've read a lot, and I've loved most of them. And though I know so very many people who love his books as much as I do, it's also vastly frustrating how little known he seems to be outside of his fanbase. Even those who aren't readers of horror know Stephen King; even those who aren't readers of science fiction know Isaac Asimov and Ray Bradbury; even those who aren't readers of fantasy know Tolkien and C.S. Lewis and J.K. Rowling. But Pratchett wasn't just a funny fantasy writer — he was also one of the grandest wordsmiths on the planet — yet most of my officemates at work had never heard of him. That's terrible, and I don't know how to solve that.
I am, in fact, sorely tempted to go grab handfuls of my favorite Discworld books and force them on people — but my favorite books — "Small Gods," "Reaper Man," etc. — wouldn't make the best introductions to the Discworld. But some of the earlier books are maybe a bit too chaotic and could turn off neophyte fans. I have no solution, and it frustrates me terribly.
Perhaps the best solution is just to keep evangelizing about how good his books are, and let those who are open to his style of humor and wonder and epic glory… discover for themselves.
I think I have to close with a line — one which has been strongly affecting me throughout the day — from one of Pratchett's best and oddest characters: WHAT CAN THE HARVEST HOPE FOR, IF NOT FOR THE CARE OF THE REAPER MAN?