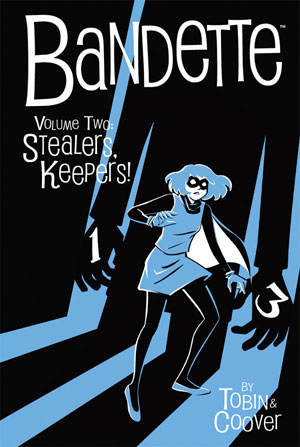 Bandette, Volume 2: Stealers, Keepers!
It's Paul Tobin and Colleen Coover's long-awaited second collection of the daring and spectacularly French adventures of Bandette, the greatest thief in the world!
Bandette is still competing in a thievery contest with the courtly Monsieur, she's still toying adorably with the heart of the hapless Daniel, and she's targeting Absinthe and his deadly criminal organization FINIS for elimination. But while she still has her Urchins to assist her, and while Inspector B.D. Belgique of the Paris Police still pursues her (often just to see if she'll help them take care of a more serious crime), Bandette has a new foe she must deal with: the deadly strangler Il Tredici!
There are old friends, new friends (like Pietro the Pig), unexpected allies, surprise returns, and more wit and derring-do than you can fit in the Louvre. There are also a number of backup stories about Bandette's allies — and even one of her foes. Most of these are short comics, written by Tobin and illustrated by other cartoonists, but there's also a prose story about how Bandette helps save one of the supporting characters in the main story.
Is there nothing Bandette cannot accomplish? Well, perhaps she cannot best Monsieur in their competition. Perhaps she cannot avoid the unlucky hands of Il Tredici. Perhaps she cannot avoid the vengeance of Absinthe. Perhaps she cannot save innocent lives from FINIS.
Ha ha! How droll! Of course Bandette can do all these things!
Verdict: Thumbs up. Like the first volume of this series, this is delightful, fun, charming, and an absolute joy to read. The stakes are higher, but the fun and the humor are still really strong — and there's still nothing grander than watching Bandette pull off impossible and daring heists of wonderful things, all while keeping up a stream of hilarious and slightly demented patter.
Can't say enough great things about both Tobin and Coover in this story. They both team up to create a beautifully French comic, with Tobin providing the gloriously Parisian plotlines and dialogue and Coover creating the romantic, exciting Paris that probably only exists in dreams.
You can also see Coover's notes at the end of the comic about the people who inspired her depictions of all the major characters, which will probably send you reading back through the story to imagine what a "Bandette" movie would've looked like if they'd made it in the '60s.
Don't know what else to say. It's an outstanding comic, great for kids or grownups, boys or girls. Go pick it up!