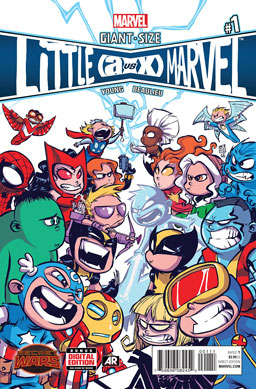 Giant-Size Little Marvel: AvX #1
Skottie Young glorious cartooning gets to move off the alternate covers and into a full comic of its own. Believe it or not, this is part of the Secret Wars crossover, though it seems to have very little connection to anything with Battleworld. It's basically a whole comic book full of the Avengers and the X-Men looking for excuses to get into hilarious fights.
Verdict: Thumbs up. Marvel's characters as particularly funny cartoon babies is something I will never, ever get tired of. I'd love it if they made this a regular series.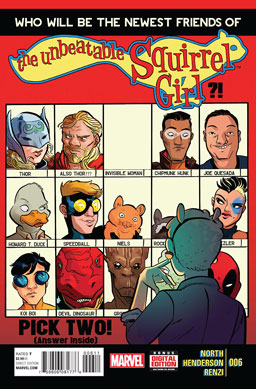 The Unbeatable Squirrel Girl #6
In this issue, we meet a new supervillain — Hippo the Hippo, who is a bipedal talking hippo! He's very angry and wants to rob a bank that Doreen and her roommate Nancy are guarding. But before Squirrel Girl can kick his ass, we meet new heroes — Chipmunk Hunk, who can talk to chipmunks, has chipmunk powers, and is awfully good looking, and Koi Boi, who can talk to goldfish and slowly grow to fit the size of his container. After Doreen convinces Hippo to turn from a life of crime, she decides maybe Nancy has the power to talk to animals, too, so they head to the zoo so Nancy can talk to every animal there. Of course, a crimefighting emergency presents itself, but before Doreen can get into her costume, the day is instead saved by a teensy squirrel superhero called Girl Squirrel! But is Girl Squirrel friend… or foe?
Verdict: Thumbs up. It's very funny — and insane to a degree that you almost never find in comics today. The description I have above is seriously toned down, because if I mentioned all the crazy stuff that happened in this issue, it would've taken another three paragraphs to tell it all. Yes, this is absolutely a recommendation.