Ms. Marvel #16
Kamala Khan is still heartbroken that her crush, Kamran, turned out to be a supervillain — she's busy drowning her sorrows with pushcart hot dogs — when she learns that the world is about to end. She responds to reports of panic in NYC and discovers a whole 'nother Earth about to crash into ours. She starts working on getting her friends and family to safety — and meets up with Kamran again, who informs her that the renegade Inhumans have abducted her brother Aamir. They're going to expose him to the Terrigen Mists, too, to awaken his Inhuman powers and see if he'll serve them. And on top of all that, Kamala finally gets to meet her idol…
Verdict: Thumbs up. Tons of great moments, great writing, great art. It actually feels like a crisis situation — everyone is pulling together and helping each other out. And hey, Adrian Alphona is doing the art, which means you need to start paying attention to all the little details to find the secret gags and in-jokes.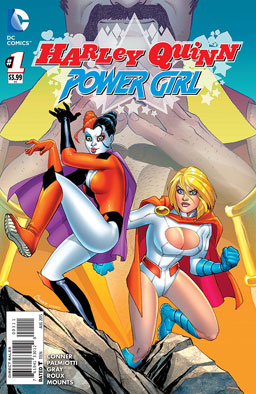 Harley Quinn and Power Girl #1
So this entire miniseries takes place between a few panels in the regular Harley Quinn comic. Harley and Power Girl end up going through an interdimensional/time portal and then reappearing moments later with new costume changes. So what happened while they were in another dimension? Let's find out!
Once Harley and PeeGee find themselves teleported to another galaxy, they run into a quasi-Yoda pervert who has his pet hydra attack them. Once they've got that settled, with a combination of superstrength and conveniently-placed high-caliber weaponry, they find an abandoned but oddly familiar robot head. Hey, it's the giant head spaceship of Vartox of Valeron! But where is Vartox? He's being held captive by the Darkseidesque supervillain Oreth Odeox, and when the big giant head takes our heroines to the now-conquered Valeron, they're attacked by Odeox's forces, but they meet up with a new ally — Groovicus Mellow, Chief Science Cat to Lord Vartox.
Verdict: Thumbs up. I never really thought I'd read a comic with the New 52's uncool version of Harley — but when it also stars Power Girl, and it's written by Jimmy Palmiotti, Justin Gray, and Amanda Conner, the creators behind the very best version of Power Girl, well, I allow myself to be convinced. Conner doesn't provide the art — that's by Stephane Roux. The art isn't as gloriously expressive as Conner's, but it ain't at all bad. All in all, it looks like this is going to be something I'll keep reading.
Sensation Comics #11
Just a single story in this issue. Josh Elder and Jamal Igle bring us the tale of Wonder Woman traveling to the nation of Itari, which has been locked in years of war. She hopes her status as an ambassador will help the intractible enemies in the small nation learn to embrace peace. But Ares definitely doesn't want to let peace break out, so he raises an army of the lizard-like Praetorians. Can Diana defeat the God of War and help end the hostilities in Itari?
Verdict: Thumbs up. A nice story, along with some excellent art by Jamal Igle. I do wish we could've seen Etta Candy, though — she gets namedropped early on, but it seems like the kind of story where she would've been a lot of fun.
Today's Cool Links: