The Wicked + the Divine #12
The world is in turmoil because Baphomet has apparently killed Inanna — and then committed another murder of a family in London. (We know the second one isn't true — but any more details would spoil last issue, and it was so good, I'm not willing to do that yet.) (And in fact, I've got my doubts about the first. Everyone assumes that Inanna is dead — but his look is based on Prince, and there ain't no way His Purple Badness dies offscreen.)
Anyway, in this issue, we follow a filmmaker named Beth and her team of assistants — all similar to Cassandra, and in fact, Beth used to work for Cassandra before she got fired. Anyway, Beth is trying to make a film about the gods, but she's got no documentary footage she's happy with. While getting B-roll footage of mourning crowds at Inanna's house, Beth encounters Baal and persuades him to give her an exclusive interview about Inanna in exchange for helping him find the Morrigan, who could lead him to Baphomet. There's a huge fight that only ends when Woden makes the scene to drag the combatants away.
Verdict: Thumbs up. Although the main thing I dislike about the issue is a major turnoff — guest artist Kate Brown is an excellent artist, but she just doesn't seem to fit this series. As if to play that up, there's a brief one-page interlude inside the back cover that's drawn by regular artist Jamie McKelvie — it's a lot more resonant with the series than Brown's more cartoony style.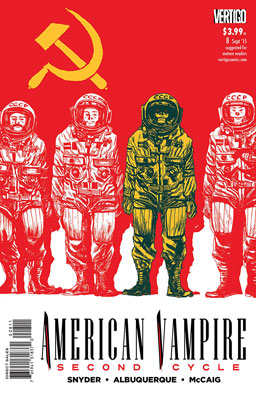 American Vampire: Second Cycle #8
Skinner Sweet has been corrupted by the Gray Trader into one of his super-vampires — but his stubbornness and sheer cussedness lets him throw off his monsterizing influence and revert to normal. Now the only way to keep him from turning into a monster again is to keep him week by giving him an IV of gold — the only substance harmful to the American breed of vampires. And now he has to go up in the spacecraft to help sabotage Sputnik, because there's no one left but him. Meanwhile, Pearl Jones and Felicia Book are traveling underground — literally — in an attempt to infiltrate the base before the Trader's forces can get there.
Verdict: Thumbs up. Things ain't quite as horror-tastic as they were back in the day, but it's cool that Snyder and Albuquerque can still pop out a panel out of nowhere that'll give you a nice little shiver of fear.
Today's Cool Links:
Hey, first things first — I won't be posting again 'til this Friday. I've got a minor medical procedure to get taken care of this week, and I'm gonna give myself a few days to get over that before I try blogging on a schedule.
Comic cover artist Arthur Suydam appears to be a bit of a jackhole.
Legitimately sad article on delusional people who think they have pregnancies that no one else is able to detect.
Meet Killer Mike: rapper, community advocate, entrepreneur, and a man who scares the holy howling heck out of Fox News.