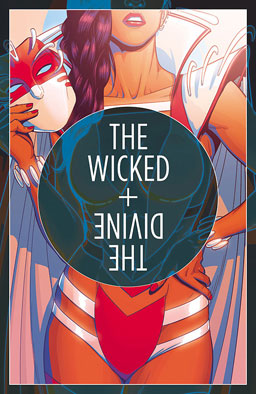 The Wicked + the Divine #13
We finally get to meet the elusive and mysterious Tara. So far, she has the most detailed — and ironic — backstory of any of the gods. She was once a beautiful college student, frustrated that her true talents as a musician and fashion designer were ignored because she was so attractive. Tired of getting unearned accolades based solely on her looks, she took to performing her music in mostly empty bars while wearing a mask. And then, once she's turned into a god, she's stuck in the same trap. She's beloved for her looks and for her magical concerts — but the minute she brings out her mask and acoustic guitar to play the songs she wrote when she was in college, the crowds turn on her. She doesn't even know which of the various divine Taras from different world cultures she may be. She's frustrated with her divine life, frustrated with her fellow gods, frustrated with the hate heaped on her in social media for not being the right kind of celebrity. But Inanke has a way out.
Verdict: Thumbs up. Tara is a thoroughly wonderful character, and her story is a great study on unwelcomed celebrity. And Inanke is getting more and more dislikeable by the second, if that's possible. The guest artist in this issue is Tula Lotay — her art has a high-fashion look about it, which makes it very appropriate for a comic about appearance and celebrity culture.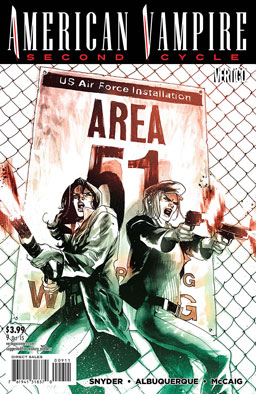 American Vampire: Second Cycle #9
It's 1965, and Skinner Sweet and Calvin Poole are traveling on a secret mission to space, trying to keep the Gray Trader from ending the world, all while Skinner tries to fight off the Trader's control. Meanwhile, Pearl Jones and Felicia Book are imprisoned in Area 51, betrayed by their military contact in the Vassals of the Morning Star because he thinks the Trader is about to win, and he wants to be on the winning side for once. Is there any way for everyone to get out with their skins intact?
Verdict: Thumbs up. Excellent story, excellent art. Don't know when the next issue of this one is coming out — but I hope they don't delay too long.
Today's Cool Links: