I Hate Fairyland #1
Skottie Young's first creator-owned comic is about a little girl named Gertrude who gets whisked away to Fairyland. To get back home, she just needs to find a key to the door back home — but luck is not with her. A quest that should've taken only a day or two ends up taking 27 years. And while she still looks like she's just a little kid, she's actually almost 40 years old, she's furious, she's sick and tired of Fairyland, and she's armed with an array of fantastically violent weapons. She's still looking for the key — but she also takes time to blow the moon's brains out, murder a bunch of stars, rob casinos, throttle a giant caterpillar, eat way too many mushroom guards, and make daring escapes — but can she survive an attack by a barbarian assassin?
Verdict: Thumbs up. It may look a lot like your typical Skottie Young all-ages comic, and it may have no swear words (just Fairyland-swears like "hugger fluffer") — but this is definitely not for kids. There's blood and violence and hurt feelings everywhere, and it's pretty dang wonderful so far. Let's hope they can keep up the violentastic wonderments.
Ms. Marvel #19
The world is ending, and Kamala Khan has just discovered that her mother has known she was really Ms. Marvel almost from the very beginning of her superheroic career. Plus she finally realizes that her pal Bruno is in love with her, and she doesn't know how to react to that knowledge. She makes up with her friend Nakia and has a meeting-of-the-minds with the school's alpha bitch. And everything closes out with an incredible dance party.
Verdict: Thumbs up. We know this isn't really a final issue — it'll definitely be back with a new #1 soon — but it feels like a really strong final issue anyway. It's great to get some excellent moments with almost everyone in Kamala's supporting cast. And as always, you gotta pay close attention to the backgrounds, because some of the best things are hidden back there.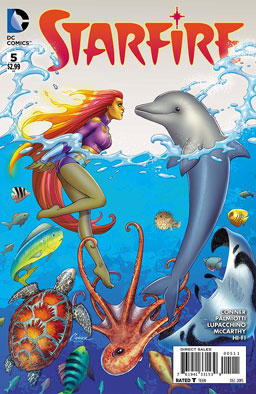 Starfire #5
Kory discovers an unexpected talent for mind-reading, and as a result, we get a little of the backstory of Soren, the apparent psychic who killed everyone on a cruise liner a few issues back — he's a former doctor with the power to heal cancer, at the cost of strengthening the cancer he was suffering from himself. Kory also has a job interview at a local aquarium and manages to get the job when she's able to learn dolphin language to communicate with a depressed porpoise. But Soren has dire plans for everyone, and there are forces from outer space that are bringing trouble to Earth, too.
Verdict: Thumbs up. Aside from the extremely pretty art, a lot of the fun of this series is watching Kory misinterpret human metaphors, and some of this issue's misinterpretations are the best yet.