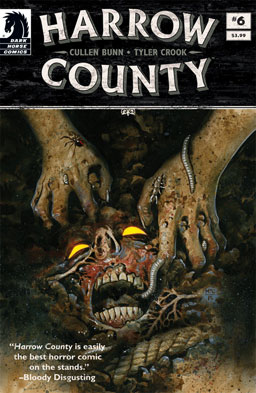 Harrow County #6
Country-girl witch Emmy is getting to know her big-city twin Kammi, who's a lot more comfortable with the evil part of being a witch. She's overjoyed to see the tree where she was born and wants to dig up her mother's skeleton. She goes on a ride through town — everyone thinks she's Emmy having a fancy day. She meets up with the man who'd asked Emmy to kill his wife's admirer — and Kammi is much more willing to consider what he's asking.
Verdict: Thumbs up. This is mostly a fairly quiet character study on how mentally messed-up Kammi is — but we do get some pretty horrific stuff right at the end. Mercy, Kammi is really bad news, and this is a really good horror comic.
The New Avengers #1
The "Secret Wars" crossover is almost over, so that means it's time to meet some new Avengers teams. This new series by Al Ewing and Gerardo Sandoval features the heroes of A.I.M. — Avengers Idea Mechanics — featuring Songbird, Wiccan, Hulkling, Power Man, White Tiger, and Squirrel Girl (and Tippy-Toe!), with Roberto DaCosta, a.k.a the mutant Sunspot as the team's multi-billionaire funder. The team is on their way to Paris to deal with attacks by a bunch of people with diamond heads.
The readers learn the mastermind behind the entire thing — it's Ultimate Reed Richards, who was a major supervillain as the Maker. He's planning to use science to invade the universe with the afterlife, and he's got a compromised S.H.I.E.L.D. team as his slaves. Meanwhile, DaCosta meets with S.H.I.E.L.D.'s Dum Dum Dugan, who introduces him to the agency's not-so-secret mole — Clint Barton.
Verdict: Thumbs up. I actually dig the weird art style, and I'm really digging this particular team, most of whom have never gotten to be official Avengers before. And I'm relieved that Squirrel Girl is so wonderfully funny — I was worried they'd try to turn her into a serious superhero at some point.
Spider-Gwen #1
The alternate-universe adventures of Gwen Stacy, Spider-Woman, return to comics. While racing to her new job at the Dollar Dog corn dog restaurant chain — and giving the cops the slip while talking to her dad on the phone — Gwen learns that her new workplace has been destroyed by an oversized humanoid lizard. Has Peter Parker returned from the dead? Is (impressively mustached) Curt Connors responsible? And does the Lizard have an unexpected sponsor?
Verdict: Thumbs up. More of all the stuff we loved about the first Spider-Gwen series — humor, angst, action, drama, great art, and awesome characters.
Today's Cool Links: