All Star Section Eight #5
Probably the most absolutely impressive comic book released last week, if not all last month, if not nearly all of the year. Sixpack wakes up from a massive blackout to find the Phantom Stranger knocking out some fantastic gangsta rap. The Stranger is soon joined by Etrigan the Demon, and they both rap about how great it would be if DC would release a trade paperback of Garth Ennis and John McCrea's "Demon" series from the mid-1990s. And he meets up with Jean de Baton, Flemgem, the Defenestrator, Friendly Fire, and Shakes — the dead members of Section Eight.
They throw him back into the waking world — in fact, they might have thrown him a little too hard, because he finds himself looking at himself from the first issue of this series — an alcoholic art critic, just fallen off the wagon, freezing to death in the snow. We briefly ponder the mystery of Dogwelder — and Sixpack gets one more visitor. Is this the guy who'll join Section Eight at last?
Verdict: Thumbs up. A comic manages to go from gross-out humor, rap parody, an in-comic advertisement for a trade paperback that namechecks DC editor Scott Nybakken as well as Marvel editor Jen Grunwald, and closes with a deeply touching moment where Sixpack tries to save himself from freezing to death in an alley. It's not just something that's fun to read — it's something that must be read, and if you're not waiting desperately to see what Ennis and McCrea manage to do in this miniseries final issue, you just ain't paying attention.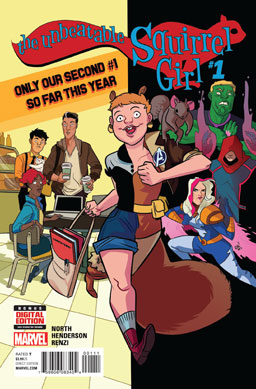 The Unbeatable Squirrel Girl #1
As the cover jokes, it's a brand new #1 issue for this series less than a year after the first one debuted. The fanaticism for #1 issues at Marvel is something that really should be put under control.
Once we get some people rescued from a burning building and Doreen and Nancy moved into their new apartment, the bulk of this issue focuses on a visit to NYC by Squirrel Girl's mom, which Nancy is utterly delighted about, because Maureen Green has the very best stories about Doreen's squirrelly childhood. And on top of that, there's an attack by Brain Drain, an old-school supervillain who's basically a brain and a couple eyeballs inside a robot body. Can our heroes stop Brain Drain? Even more important — can they reform him?
Verdict: Thumbs up. It's still, pound-for-pound, the talkiest comic on the stands. But it's a lot of good talking, a lot of great jokes, a lot of clever storytelling, and a lot of awesomeness spread all over the page.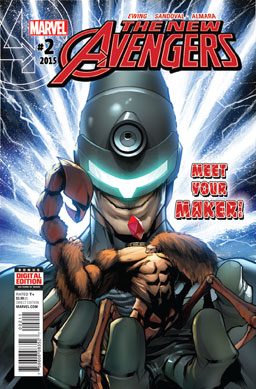 The New Avengers #2
The Maker — slightly better known as the evil Ultimate Universe version of Reed Richards — has unleashed a bunch of crystal-headed zombies on Paris. And even worse, he's managed to co-opt some genetically enhanced S.H.I.E.L.D. agents — enhanced with gamma radiation, in fact, giving them powers similar to the Hulk's! Luckily, the A.I.M. team has a couple serious heavy-hitters on their side — White Tiger, with all the power of a Tiger God, and Squirrel Girl, with all the powers of a squirrel! They make short work of the crystal-headed agents, but unfortunately, the giant scorpion-gorilla monster who accompanied the agents manages to co-opt Ava and Doreen next!
Max Brashear realizes that all the crystal-headed people are still alive, just with a higher-dimensional non-consciousness imposed over their own. Can the A.I.M. scientists, Wiccan, Songbird, and Power Man figure out a way to counteract the dimensional frequency and returning everyone to normal? And what ancient powers are working with the Maker now?
Verdict: Thumbs up. I'm still grooving on Al Ewing's storytelling and Gerardo Sandoval's funky fresh artwork. I enjoyed the threat escalation in the story, too. The hulked-out agents are threats because of their strength, but they get handled by the Avengers' heavyweight contenders — and then the heavyweight contenders get turned into threats themselves. It's wonderfully well-done.