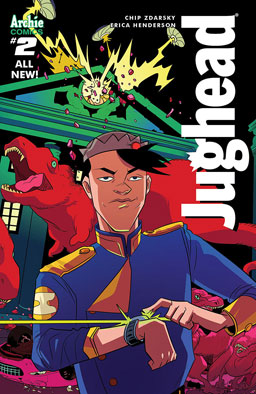 Jughead #2
Riverdale High's dastardly new principal is Mr. Stanger, and he wants everyone at Riverdale to be dull, boring cogs in the machine. Jughead already angered him last issue by finding the loophole in Stanger's new anti-hamburgers policy. Now Stanger plans to send everyone in school to detention, but Jughead is really good at skating just on the right side of good behavior. However, Stanger's new gym teacher, a humorless hardass named Coach Eng, institutes a rule that the worst athletes in his classes go to detention — and so Jughead goes to detention. Is there a way to stop Stenger and Coach Eng? It may require assistance from… the Time Police!
Verdict: Thumbs up. It's a wonderfully clever comic by some top-notch pros, and a fun spin on the old "Jughead's Time Police" comics. Plus there's an excellent cliffhanger, too!
Ms. Marvel #1
Another number-one! MARRRRVELLL! (shakes fist at sky)
It's a new day for Ms. Marvel! She's in the Avengers! Holy cow! There's nothing non-cool about this! Oh, and Bruno has a new girlfriend. Whoa, whoa, wait — what the heck happened?! Didn't he just say he loved Kamala? Didn't she have to turn him down for the sake of being a superhero? Um, well, yes, and that's why Bruno has a girlfriend now. She calls herself Mike, and she seems perfectly cool, but Kamala can't get over the fact that he's dating now. And even worse — a lowlife developer is trying to gentrify Jersey City, and he's using Ms. Marvel's image to do it! And when she learns that the developer plans to pave over the entire city, and he's willing to use high-tech weapons against normal citizens, Ms. Marvel is going to have some housecleaning to do in her hometown.
Verdict: Thumbs up. An excellent story, full of great human details and cool new supporting cast members. And it's got awesome art by both of the series' regular artists, Takeshi Miyazawa and Adrian Alphona. I'm assuming y'all all loved Ms. Marvel before, right? There's no reason not to keep loving her now.
Lumberjanes #20
Well, April has pretty much ruined the Mermaid Battle of the Bands. Now everyone is fighting, and sea serpents are attacking, and absolutely no one is rocking. And April has screwed up her friends' plans for the Bandicoot Bacchanal, too. Can the Lumberjanes use the Power of Friendship to save the concert, get Harlow's band back together, and make sure everyone has a great Bandicoot Bacchanal?
Verdict: Thumbs up. I still never got into the rock-and-roll mermaids — seemed just a little weird, even for this series — but it wraps up well, with a lot of clever plotting, great character work, and fun moments.