Well, here we are again. It's the day after Thanksgiving, and we're being told by advertisers and the media — and way too many people who should know better — that the very best post-Thanksgiving activity is getting up in the middle of the night to run around shopping malls like good credit-card-wielding psychotics, abusing exhausted retail clerks and breaking the bank on "doorbuster bargains" that aren't actually very cheap. There is, thank goodness, a slowly growing backlash over the idea that we all have to go crazy for Black Friday — but on the other hand, there's not really much to do after Thanksgiving, and it's not like shopping is some sort of crime.
But you can shop better and smarter. You don't have to deal with the gibbering lunatics at the department stores. There are lots of stores out there that don't attract hordes of zombie shoppers — and one of them is your Friendly Neighborhood Comic Book Store, which tends to be much more sedate on Black Friday and which still has great gifts you can buy for the comics fan on your shopping list.
So let's begin our annual review of some of the best comics gifts out there. Today, we'll start with a comic series called Princeless.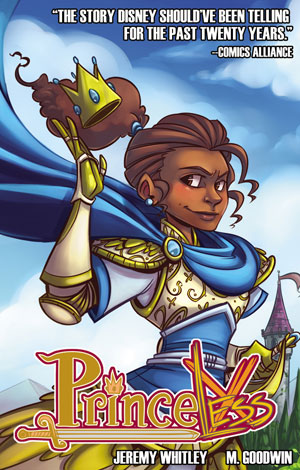 Careful readers should take note of the "L" right in the middle of the title — this is a story about a princess, but she's certainly not defined any attempt to get herself a Prince Charming.
The story, written by Jeremy Whitley and illustrated by M. Goodwin, focuses on Princess Adrienne, who has been imprisoned at the top of a tower by her cruel father. The similarities to any other stories you may have read end there — she thinks the idiots trying to rescue her are, well, idiots. She teams up with the dragon assigned to guard her. She rescues herself. And then she decides to go rescue her sisters, who have all been similarly imprisoned in towers by their tyrannical father.
And when she realizes she needs decent armor, she goes to a cool half-dwarf armorer (she got her mother's height) named Bedelia — and then she teams up with Bedelia, too, so they can go on fightin' evil and rescuing her sisters!
Do Adrienne, Bedelia, and the dragon Sparks have a chance to rescue everyone? Will her fairly awful father come after her? Will her poetry-loving brother be able to aid her? And will Adrienne finally find some armor that's built for action and not for cheesecake?
Verdict: Thumbs up. The story is pretty dang fantastic, the art is pretty dang fantastic, the whole thing is pretty dang fantastic.
Characterization is a big thing in this book, because Adrienne is a wonderful character. She's peeved at all the nonsense around her — her father locking her in a tower, a bunch of idiots trying to rescue her and then getting eaten by a dragon, sexist guards who think they're allowed to mack on every girl in the area. And she's not just peeved — she also does something to deal with the things that peeve her. She's no passive nobody — she gets up, she kicks ass, she learns how to kick more ass.
There's a lot of great humor, too. This is designed to be an all-ages comic, and kids love a heroine who can crack jokes — and who can lose her dignity without losing her awesomeness.
If you've got a kid — or an adult, for that matter — who loves clever fantasy, they'll love this. If they love kick-ass female heroes, they'll love this. If they love kick-ass female heroes of color (because yeah, Adrienne's dark skin isn't a tan, and her straightened hair came out of a bottle – and it gets curly fast once the adventuring begins), then they'll definitely love this.
You know what? You should go pick this one up.