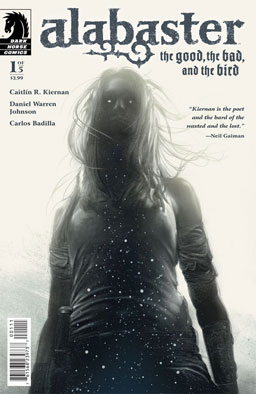 Alabaster: The Good, the Bad, and the Bird #1
Dancy Flammarion, the Southern possibly-crazy monster-hunting albino girl, is back. No, wait, actually, she's not back. She's dead, and apparently in Hell, which is an infinite blank space inhabited only by Dancy and, occasionally, her furious, vengeful angel. Dancy doesn't want to be in Hell, but she's also not too keen on the angel telling her that her life was worthless or a betrayal or something that should be renounced. And while Dancy is dead, shady underworld characters in the South, including a wealthy fixer and a couple of psychos wearing cute animal masks, celebrate her end. Good times are here again for the forces of evil…
Verdict: Thumbs up. I was so excited to see this. I got so much joy out of Caitlin R. Kiernan's amazing Dancy Flammarion stories, and it's great that, even with a new artist, the series is still maintaining the extremely high quality we've come to expect from it. Y'all get in on this one early, okay?
Harrow County #8
Emmy now knows for certain that her "sister" Kammi is thoroughly evil. She's rousted up all the most evil of the haints in Harrow County and set them after Emmy to kill her, while she plans on killing Emmy's father, just to hurt her a little bit more. Can Emmy and the few friendly haints on her side manage to get the better of Kammi and her ghostly army? And where does the girls' mother come in?
Verdict: Thumbs up. Less low-key creepiness this time and more out-and-out supernatural war — but there's still a lot of good to say for this story. A confrontation between the two sisters and their contrasting views of the world probably couldn't end any other way…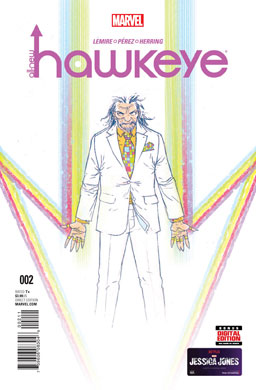 All-New Hawkeye #2
In the future, Clint Barton and Kate Bishop have been betrayed by SHIELD and imprisoned by the Mandarin. And he's also captured one of the super-psychic kids who'd helped cause the massacre of Mandarin's people — and he wants the Hawkeyes to get the psychic to work for him so he can use him for his own weapon of mass destruction. But Kate has an ace in the hole — her ex-boyfriend and Kree superhero Noh-Varr, who's much better equipped to deal with hordes of robots and the Mandarin's powers. So what's the Hawkeyes next move?
Verdict: Ehh, close enough to a thumbs up. I like the look of the Mandarin, but a lot of the story was just kinda nowhere. The surprise appearance of Marvel Boy was my favorite bit.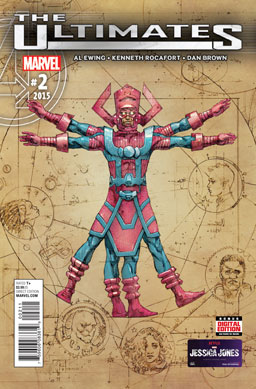 The Ultimates #2
The Ultimates have a plan to neutralize Galactus. It involves obtaining the giant mechanical "cradle" that originally transitioned Galen, the last surviving being of the previous universe, into the Devourer of Worlds of this universe. While the Black Panther keeps Galactus distracted with monologuing (the only attack that all supervillains respect), Monica Rambeau and America Chavez obtain the birthing chamber and teleport it to Galactus, then the rest of the team blast him inside the cradle — and what emerges, transformed, may look like Galactus — but it definitely doesn't act like him anymore.
Verdict: Thumbs up. It's all fairly standard proactive superhero fare — but the final splash page certainly does sell the issue. It can't last, of course, but it'll be fun seeing how it all goes wrong.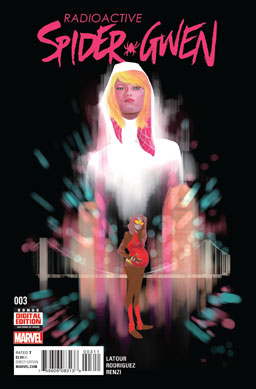 Spider-Gwen #3
Gwen travels to the regular Marvel Universe because she's stuck in adamantium handcuffs she can't get off. Once the extremely pregnant Spider-Woman of our universe gets her free, it's time for Gwen to head home, where Officer Ben Grimm has just been inducted to the NYPD's anti-Spider-Woman task force. They suspect Captain George Stacy of being one of Spider-Woman's assistants, because she's rescued him twice — and others are suspecting there may be a connection, too, as Matt Murdock, blind attorney and rotten lieutenant to Wilson Fisk, pays Captain Stacy a visit.
Meanwhile, Gwen goes to see friends from school and runs into the long-lost Harry Osborn, one of her best friends, alongside the late Peter Parker. Unfortunately, Harry blames Spider-Woman for Peter's death, just like everyone else — and he has plans for what he means to do about it.
Verdict: Thumbs up. Excellent story, fun art, all kinds of great complications getting thrown into the blender. I still think Spider-Woman being pregnant is a bit out of left field, but her scenes with Gwen are really fantastic.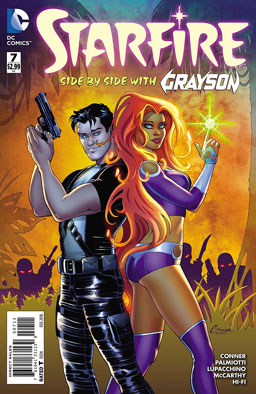 Starfire #7
Dick Grayson, Agent of SHIELD — um, Spyral or Spectre or whatever he's an agent of — is in Florida tracking some bad guys. He disguises himself to get aboard a yacht — and as it turns out, Starfire is on the same boat, so he enlists her to help out. Will they be able to stop the villains, retrieve the secret package, and discover what kind of being is stalking Kory?
Verdict: Thumbs down. Sorry — I thought it was more than a bit dull.